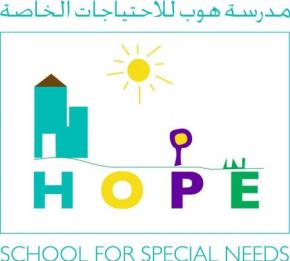 HOPE School for Special Needs
Kuwait City, Kuwait
HOPE School for Special Needs is a private international school serving children with intellectual developmental disorders since 2006. The school specializes in preschool to elementary age children diagnosed with mild to moderate cognitive disabilities such as autism, Down syndrome, and general learning delays.
The vision of HOPE School for Special Needs is that one day Special Education in Kuwait will be the standard against which other societies in the Gulf region measure their success; that our society will create unique oppurtunities for students with special needs in order to lead meaningful lives and be part of a supportive workplace; that parents will take responsibility for their family plannin and make healthy choices for their children, and that HOPE School for Special Needs will be the premier school for early childhood/elementary special needs education utilizing best practices with the best available resources in the hands of well-trained and knowledgeable international staff.
The mission of HOPE School for Special Needs is to maximize the strengths and capabilities of our students in all their developmental areas - intellectual, social, emotional and physical. The outcomes for which we strive for each child, where possible, are cognitive gains, improved communication, enhanced self confidence and independence and socially appropriate behavior. Within a safe, secure and nurturing environment, and with the support of highly qualified and well-trained staff and specialists, our students are provided with a developmentally appropriate learning environment, motivating experiences and additional support services.