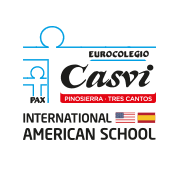 Featured Job
Mathematics IB Teacher
Casvi International American School
Initial Expenses aid and accommodation help and support
Middle School, High School
Bachelor
2 years of teaching experience
Bachelor's Degree in Maths, physics or Engineering. Master's preferred

Teaching Credential/License
Qualifications:
Bachelor's Degree in Maths (Spanish or International Certification). Master's degree preferred.
Preferred IB Methodology knowledge.
Knowledgeable and skilled in the use of instructional technology, including iPads, in the classroom.
EU Working Visa
Social Security Health Service
School Cantina
Initial Expenses aid and accommodation help and support
The Maths Department seeks a passionate, energetic, and innovative full-time maths teacher who is interested in being part of a collaborative group of maths teachers and working with highly motivated high school students in a diverse, mostly residential community.
Responsibilities:
The readiness to teach introductory courses in Maths and the potential to teach higher levels.
Excellent oral and written English-language communication skills, including a clear speaking voice.
Excellent presentation skills.
Must have good classroom management and demonstrated ability to engage students.
Must have a professional demeanor.
Ability to work well with others, resolve controversy and conflict through respectful negotiation, and accept constructive feedback.
Adept at problem-solving, resilient when faced with challenges, and skilled in planning and organization.
Casvi Group was created in 1985 when Mr. Juan Yagüe Sevillano – who had spent 20 years working in education – founded the first Eurocolegio Casvi in Villaviciosa de Odón. From its beginnings with just one classroom per grade, it's grown into a large international private school with almost 1,300 students and 120 teachers.
We at Casvi Schools are constantly adapting ourselves to society's new needs and requirements, and we educate our students for a successful personal and professional future. This is why we have a deep and ongoing commitment to innovation, both in terms of leveraging new technologies to help to learn and introducing new teaching methods.
Our Vision
To become a benchmark in international and global teaching with quality and innovation, enabling our students to achieve their maximum potential in terms of excellence in their academic and personal education, developing, within the framework of the International Baccalaureate, critical thinking, mastery of languages, encouraging sports, creativity, and artistic spirit, paying individualized attention to families, and technological and educational innovation.
Our Mission
To support the personal and intellectual growth of our students, to give them gain an authentic advantage at university, in professional work, or real-life situations through the discovery and development of talent, with an entrepreneurial spirit and ethical commitment to our society.
Experience the excitement of Madrid, the beauty of Barcelona, or the Islamic influences in Andalusia. Known for its relaxed lifestyle and friendly residents, Spain is a highly sought-after destination for many teachers who want to teach abroad in Europe.
Please note that Teach Away provides information on behalf of schools and cannot accept liability for information provided or policies schools may adopt. Be sure to verify all details that apply to you, and check for the latest visa and work permit requirements. For any questions regarding job postings, please contact the school directly. Teach Away believes in diversity and inclusivity, and that everyone deserves to be treated with respect and be considered fairly and equally for employment. We ensure all schools we work with adhere to our pledge to promote inclusivity and diversity in education and recruitment practices.
Similar Jobs

RVF International
Various Locations, Spain, Europe