ASCS - American School of Creative Science
Sharjah, Dubai, United Arab Emirates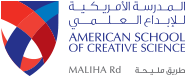 The American Schools of Creative Science (ASCS) are managed by Bukhatir Education Advancement & Management (Beam) and have two schools in Sharjah and one in Dubai. The Maliha school comprises of kindergarten till grade 12.
At ASCS we strive to be a learning organization that nurtures, cultivates and fosters creative and critical thinking skills. The schools' reputation for academic excellence couples with strong moral values to develop successful, contributing members of a global society.
The schools' mission is to effectively instill traditional morals and values while ensuring excellence through an integrated curriculum based upon internationally renowned best practices in teaching and learning. At ASCS, English and Arabic departments adopt a common approach and ensure that links are established between the different subjects.
American Schools of Creative Science follow the US Common Core Standards Curriculum (the Common Core), along with the UAE's National Curriculum in Arabic, Islamic Studies, and Social/National Studies. The schools operates a "Unique Qur'an Memorization Program".
ASCS's Islamic environment in combination with a true American education; the interculturalism and internationalism of its students, and the rich delivery of moral and behavioral standards makes our schools unique in the region.
Facilities of the school are state of the art and truly cutting edge, they include a library, auditorium, activity rooms, ICT rooms, and kitchen. Sporting facilities include playgrounds, swimming pool, gym, and multi-purpose hall. In addition ASCS is the only Promethean Center of Excellence in the entire Middle East region.
School admissions are based on an entrance test for each grade level. As well as competitive sports, extra-curricular programs include a Spelling Bee Competition, Math Competition, Quran Memorization Competition, and Science Fair, Art Fair, and Cooking Competitions.