Teaching English in China
The doors to the world's second-largest economy, China, have swung wide open for educators worldwide. With an increasing need for English teachers, there's no better time than now to explore exciting teaching jobs in China. An unmatched blend of cultural immersion, competitive salary packages, and professional development awaits your arrival. The clock is ticking, and your dream job in China beckons!
Experience the Phenomenon: Teach English in China
China, the globe's largest learning hub, invites ESL teachers and licensed educators to participate in its transformational journey. With its rich cultural heritage, thriving economy, and profound reverence for education, China is undoubtedly an ideal destination for any educator. If you've ever contemplated teaching English abroad, obtaining a TEFL certification is your ticket to a thriving career in China.
Borders in China have reopened!
Good news! China, in its significant move towards normalcy since the pandemic,
resumed issuing visas to foreign tourists
on March 15, 2023. This development ushers in a new era for teaching jobs in China, with businesses and educational institutions buzzing with newfound energy.
Schools Hiring Across Mainland China
China's extensive education network is actively hiring ESL/EAL and K-12 teachers across the mainland. Whether it's bustling cities like Guangdong, Qingdao, Yantai, Nanjing, Hefei, Chongqing, or Beijing, the perfect teaching job awaits you in China. So, don't hesitate – seize the day and secure your spot in the Chinese education scene!
Requirements to teach English in China
Whether you're considering private language schools or prestigious international schools, teaching in China has certain prerequisites.
Private language schools
The minimum criteria for securing a job in a private language school typically include a Bachelor's degree and a
TEFL certificate
. While teaching experience is preferred, it's not a strict requirement. This flexibility presents an excellent opportunity for educators starting their ESL teaching journey.
International schools
International schools in China look for candidates with a Bachelor's degree, a teaching license from the applicant's home country, and at least two years of full-time teaching experience. These positions offer a chance to engage with students in an internationally-oriented learning environment.
Why Choose China For Your Teaching Career?
Why wait when a booming job market awaits ESL teachers in China? Estimates suggest that China faces a shortage of around 100,000 English teachers, a figure expected to rise in the coming years. China's growing enthusiasm for English learning, coupled with its world's largest education system, offers a plethora of opportunities for fresh graduates and licensed teachers.
Moreover, the competitive salaries, additional perks like free housing, airfare, medical insurance, and bonuses make China the world's leading ESL hotspot.
Some blog posts to check out about teaching English in China
Teaching English in Private Language Schools
The number of students enrolling in private schools has seen a steep rise in the last decade, indicating a surge in demand for native English-speaking ESL teachers. The exponential increase in young English learners and adults seeking to advance their careers via English proficiency predicts a bright future for ESL educators in China.
International Schools: The Apex of Teaching English in China
The growing popularity of international schools in China is testament to the Chinese passion for English and its association with success. The international schools in China offer world-class facilities, smaller class sizes, and diverse curriculum offerings, including International Baccalaureate (IB), Cambridge International Examinations (CIE), and Advanced Placement (AP) programs.
If you're unsure about living and teaching English in China, why not explore our quick guides to get a feel for what life in this country might be like:
Teach English Online: A Convenient Alternative
If a flexible, part-time teaching job appeals to you, China's booming demand for online English education offers an excellent opportunity. Armed with the necessary skills and experience, you can now teach English online to Chinese students right from your home.
For more information about teaching English online to Chinese students, check out these resources:
These resources cover all the requirements (and exceptions to those requirements) to teach English in China:
Perks and Benefits of Teaching English in China
In addition to an attractive monthly salary, private language schools often offer a comprehensive benefits package, including free flights and housing, contract completion bonuses, health insurance, and ongoing professional development opportunities. Furthermore, free Mandarin lessons provide teachers with an exciting chance to learn one of the world's most in-demand languages.
| Teaching Benefit Type | Teaching Benefit Details |
| --- | --- |
| Monthly Salary | Salary ranges for teachers in China vary depending on qualifications and experience. Teacher salaries are also adjusted to account for the significantly lower cost of living in certain locations in China. |
| Accommodation | Furnished apartment/housing allowance often included |
| Airfare | Return airfare often included |
| Working Hours | Up to 40 hours/week, 5 days a week |
| Vacation | 10 vacation days; all national holidays |
| Health Insurance | Provided |
| Extra Benefits | Paid orientation and training, completion bonus, free Mandarin language lessons |
Recommended reading:
China teaching salary calculator
Visa Requirements for Teaching in China
Securing a teaching job in China requires a Z Visa, which your employer will assist you in obtaining. Be prepared to provide evidence of a Bachelor's degree, a passport from a native English-speaking country, and ideally a TEFL certificate and some teaching experience.
Please contact a Chinese embassy or consulate near you for more information.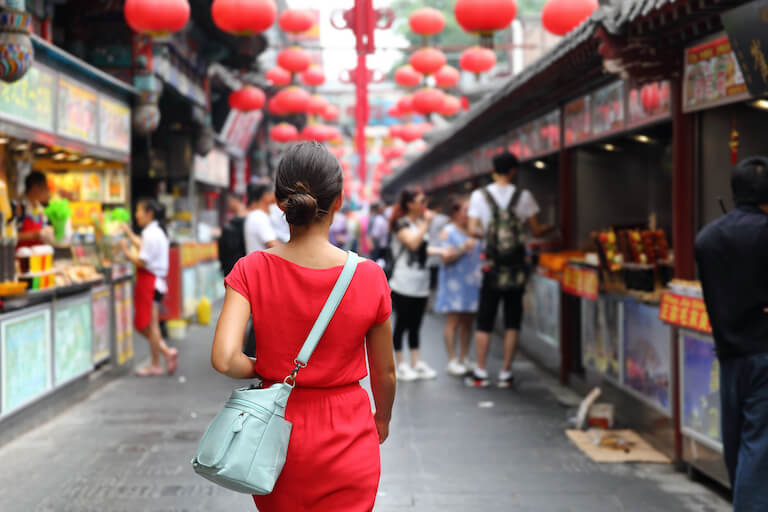 Experience Life in China
Living in China is about more than just work; it's about experiencing an ancient culture, rich in history and diversity. The cost of living is substantially cheaper compared to western countries, ensuring your income stretches further for weekend activities, travel, and savings. From the charm of ancient history to the allure of high-tech cities, China offers an unrivaled experience for expat teachers.
The clock is ticking, and your perfect teaching job in China awaits. Seize this opportunity and embark on an unforgettable journey that promises growth, adventure, and a rich cultural experience. Start your China adventure now!
Your new teaching adventure is waiting
Apply now to teach English in China with Teach Away.
China at a glance
Country information
Capital: Beijing, China
Language: Standard Mandarin
Population: 1,387,720,133
Currency: Renminbi (yuan) (¥)
Major religion: Buddhism, Taoism
Climate: Varied: wet/dry seasons
Size: Land area - 3.7 million sq. miles (9.6 million sq. km)
Quick facts
China shares borders with the following countries: Afghanistan, Bhutan, Myanmar, India, Kazakhstan, North Korea, Kyrgyzstan, Laos, Mongolia, Nepal, Pakistan, Russia, Tajikistan and Vietnam.
China has the second highest number of UNESCO world heritage sites - 50 in total to date.
Every five days, a new skyscraper is built in China. In fact, last year, a property developer in China built a 57-story skyscraper in just 19 days!
China has four megacities of over 10 million people, the highest number of any country in the world.
Only 7% of the Chinese population categorize themselves as religious, making China the least religious country in the world.
Pork is a huge staple of the Chinese diet - in fact, one out of every two pigs are located in China.
As China has a single time zone, people in parts of the country experience sunset at midnight during the summer and sunrise at 10 am in the winter.