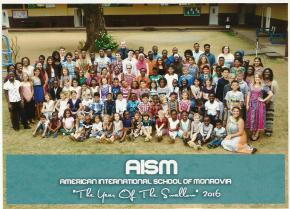 American International School of Monrovia
Monrovia, Liberia
The American International School of Monrovia
Liberia
Over 40 years ago -- with the arrival of a large expatriate community involved in everything from missionary work to mineral excavation -- a need arose to provide an education for expatriate children. Thus, American Cooperative School came into being. Starting out with just a handful of students, ACS evolved into a school of over 600 students and was known as one of the top American-International schools in Africa. Shareholders of the school were, and continue to be; multi-national companies, members of the diplomatic community, and qualified local Liberians in search of a quality U.S. Education. A change in the economic and political climate during the late 1980's and 1990's discouraged many of the multi-national companies and diplomatic community from remaining in Liberia. When they left the country, the school population declined, and with the onset of Liberian Civil War, the school closed in 1988.
On October 8, 2007, after five years of peace in Liberia, the school reopened under a new name: The American International School of Monrovia. For the 2014-2015 school year, AISM anticipated over 150 students. However, the Ebola Crisis of 2014 led to a virtual shut down of essential services in the city of Monrovia, which led most international missions and embassies to issue an "ordered departure." As a result, the Board of Trustees took the difficult, but prudent, decision to close AISM's doors (under Government Decree that all schools in Liberia
be closed until further notice) to ensure the safety of its teachers and pupils.
It was with great excitement that the Government of Liberia allowed all schools to open once again in early February of 2015, for AISM's eight continual year of operation, signaling the containment of the Ebola virus, and the resumption of normal life, in the country of Liberia.
The crisis, however, did take a toll as the American International School of Monrovia looks to open its doors for the 2015 School Year with between 70-80 students in our Early Childhood Education program (ECE) through Upper School.
Recently, as the economic, political and health situation in Liberia have turned the corner and business conditions have improved, there has been a direct increase in enrollment due to the fact that companies and the diplomatic community brought in more expatriate workers and their families.
The American International School of Monrovia is a modern air-conditioned facility that, in the future, could once again enroll well over 600 students. Presently, there is ample classroom space for all of our students. In addition to the main school building, our facilities include a basketball court, gymnasium and weight room, and a soccer/baseball field. The curriculum is North American, the medium of instruction is English, and the student/teacher ratio is 6.7/1. AISM is in the pre-accredited stage by the Middle States Association of Colleges and Schools. We have completed our 5-year strategic improvement plan, which will culminate in a visit from educational experts from around the world, in April of 2016, and result in a renewed U.S. certification for the next five years.
Monrovia is Liberia's largest city with a population of just under a million. Although we are a capital city, Monrovia has a rustic urban feel. There are modest swim and tennis clubs; there are several nice restaurants, adequate shopping close at hand, two fitness gyms, and high-quality housing with central air conditioning. On long weekends and vacations there is a diversity of environments to explore. Picturesque African beaches, the highlands of the dense jungle interior, and rain forests are all within driving distance.