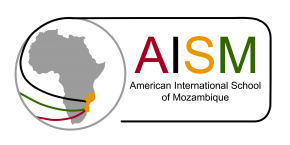 American International School of Mozambique
Maputo, Mozambique
Your Future School
AISM was founded in 1990 with the support of the United States Embassy and is a private, not-for-profit, co-educational day school serving students from Early Learning 3 to Grade 12. AISM is governed by a seven-member Board of Directors of which six are elected and one member appointed by the US Ambassador.
AISM is accredited by the Middle States Association and is a member of the Association of International Schools in Africa. AISM was the first fully authorized IB Continuum school in Mozambique and is proud to be an IB World School offering the Primary Years Programme, Middle Years Programme, and Diploma Programme.
AISM Mission Statement
AISM pursues excellence by empowering students to achieve mastery of self, advance their communities, and flourish in an ever-changing world.
AISM Core Values
CELEBRATE HUMANITY
Welcoming learners as they are, embracing diversity, and nurturing relationships.
CULTIVATE GRIT
Fostering learners' resilience, perseverance, and commitment to achieve.
INSPIRE CURIOSITY
Challenging learners to imagine, create, and innovate with passion, inspiration, and purpose.
EMBODY INTEGRITY
Living ethically through honesty, respect, and stewardship.
AISM is a growing community that places great emphasis on meeting the needs of our diverse learners. The school holds a deep belief that it is our role as educators to offer a personalized learning environment that cultivates the talents and ignites the passions of every child. At AISM we want students to be thoughtful inquirers where they are empowered with student agency to gain the knowledge, skills, and dispositions needed to be future-ready graduates.
Your Future Country
Mozambique is located on the east coast of Southern Africa, across the strait from Madagascar. It is widely known as the hidden gem of Africa offering endless beaches, abundant nature, warm climate, and kind-hearted people. AISM is located in the capital city of Maputo. The city is well equipped for a developing nation and expatriates are left longing for little. Maputo is located on the Indian Ocean and is in close proximity to South Africa and Swaziland.
Mozambicans possess a sensational spirit with a warm and familial culture. While the country is one of the poorest in the world, the people are kind-hearted and welcoming to foreigners. Mozambican culture is vibrant with an abundance of art and music. Maputo has a rich and varied history that creates a fascinating tapestry of experience. As a former Portuguese colony, the host-country language is Portuguese.
Your Future Students
AISM is a diverse community serving approximately 600 learners from over 50 different countries. The Secondary School serves approximately 300 learners. While the school was founded to serve children of expatriates, AISM prides itself on being connected to the Mozambican community and approximately 22% of students are host-nationals.
Your Future Colleagues
The AISM teaching faculty consists of 77 committed educators, 41 of which work in the Secondary School. The faculty hail from 16 different countries bringing a diversity of perspectives to support high levels of learning for all students. The faculty is experienced, talented, and engaged. They seek an inspired lead learner who possesses extensive knowledge in curriculum and progressive pedagogy.
Your Future Community
AISM is an inspired Professional Learning Community! At its core, it is warm and welcoming, providing a home for a cornucopia of cultures. The school possesses a vibrant and contagious energy that emanates from our student body and is amplified by a spirit of possibilities. AISM vigorously pursues excellence, while embracing the notion that excellence without inspiration is a hollow pursuit. At AISM, we encourage individuality, ignite passion, and empower action. We aim to nurture curiosity, cultivate grit, and instill in students the knowledge, skills, and dispositions to effect change. Our aim is high, and we rely on each other and the collective efficacy we develop through deep collaborative action. It is our belief in each other; students, faculty, and parents, that makes AISM an amazing place to be.