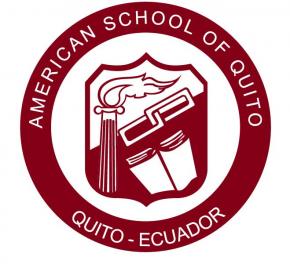 American School of Quito
Quito, Ecuador
The American School of Quito, Ecuador was founded in 1940 with the idea of offering a U.S.-type education to Ecuadorian and international students. It is private, co-educational and non-sectarian. The School's basic principles are based on democracy and our institutional values: respect, responsibility, solidarity, inner strength and honesty. ASQ is highly recognized as educating the leaders of Ecuador, with an impressive list of graduates who have excelled both locally and internationally.
The School, which is a non-profit foundation, is governed by a 22 member Board, elected among the parent community and within that number are 4 teacher representatives elected by their peers. ASQ is fully accredited by AdvancED (SACSCASI) and the Ecuadorian Ministry of Education. Graduates of the school can receieve three diplomas: U.S. accredited, Ecuadorian Ministry and the IB Diploma, if they opt for that program.
Currently the school has an enrollment of 2360 with students from Nursery to Grade 12 and offers all three International Baccalaureate Programs: Primary, Middle Years and Diploma. The first IB Program was introduced in 1990. We have both a national program of studies and an international program. Our national program, which is made up of approximately 2000 students, is bilingual in which students are offered both English and Spanish curriculums. Our international program of 300 students is full English immersion with only Spanish and Social Studies in that language.
The School has excellent sports, art and music programs in which our students interact and compete both within Ecuador and throughout the South American Region. We are a "bring your own device" school in the upper grades and teachers will be using Google Classroom and Sites, Managebac as well other digital resources.
Currently, there are 240 full time teachers on staff and within that number, there are 50 expat staff members. ASQ is located in the capital of Ecuador and 9000 ft above sealevel. 96% of the graduates attend a four year university and among that group approximately 60-70 students will go to the United States, Canada and Europe.
We work proudly each and every day to achieve our Mission:
"To educate with excellence, in an environment of liberty, responsibility, and democracy, well-rounded human beings with integrity, committed to their well-being, that of society, and the environment."