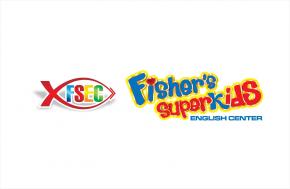 Fisher's SuperKids
Da Nang, Vietnam
Fisher's Superkids English Center (FSEC) was founded in October 2005 by Mr. & Mrs. Hai and Teresa Huynh. The couple met at Azusa Pacific University in the USA, where they both received Master's Degrees in TESOL (Teaching English to Speakers of Other Languages). Together, they have over 30 years of combined teaching experience in the United States and in Vietnam.
Huynh Kim Phuoc Hai, Director and President, is a former lecturer at the Danang Teachers College of Foreign Languages. Teresa M. Fisher, Academic Director of Fisher's, is a former instructor at Hope International University (USA). They have also taught English to immigrants at Mt. San Antonio College in California, USA. They have five children living in Danang.
Mission: Our mission is to provide an environment that brings forth positive influence, quality, happiness, love and holistic growth for our students. Besides English, students at Fisher's SuperKids can grow in terms of character, confidence, and life skills, which serve as important stepping stones for their success in the future.
Philosophy and Core Values: Fisher's SuperKids was founded and exists today on the philosophy "A heart for teaching and a passion for learning". The perfect combination of love for children, passion for education and pedagogical skills in each teacher and staff at Fisher's SuperKids is a wonderful source of inspiration for students in studying English.
There are 6 core values that we fervently pursue
Learn: Our students study English with all native English-speaking teachers from around the world. We have teachers coming from at least seven different countries, which offer students the opportunity to practice listening to and therefore understanding various accents. This allows our learners to become citizens on a global scale. Learning takes place logically through communication (listening and speaking) proceeding with reading and writing skills. Students are also taught grammar methodically with age-sensitive materials.
Play: This is an indispensable part of learning for young students, so here at SuperKids, "having fun" is used as a tool to achieve "learning" as an end goal. Students will be able to release their stored-up energy, develop creativity, and lighten stress from their heavy daily schedule through games, songs and enriching extra-curricular activities.
Grow: Holistic growth is a high priority here at Fisher's SuperKids. Our soft skills department develops exciting activities in and out of the classroom to help students grow in confidence, team-building skills, and life skills. Students learn about helping the environment, treating each other kindly, creating art projects, and even acquiring skills important for daily life, such as tying shoes.
Care: Care is offered by the teachers and Vietnamese staff, in order to help each student at Fisher's SuperKids feel special. This care is often shown through events such as birthdays, free tutoring, and grammar reviews, but it is present in every interaction at Fisher's SuperKids. Top students are acknowledged during every course in order to encourage and reward those who have been working hard in the classroom
Respect: Respect is given to all students at Fisher's SuperKids. We focus on helping students recognize and display good behavior, through positive reinforcement and rewards. Students are taught how to behave well in class, as well as appropriate ways to treat other classmates and teachers in order to have a mutually respecting relationship.
Love: Teachers and staff always make our students more eager to come to class. Students receive love through high-fives, hugs, verbal affirmations, and other ways when they study here at Fisher's SuperKids. Our center also knows that it is often better to give than to receive, so we organize charity events for students to spread love through visiting and giving to children with disabilities, orphans, and others in need.
The learning environment at Fisher's SuperKids was created with the focus of helping students feel comfortable, confident, and excited from the moment they enter the building. Each student is greeted by friendly teachers and staff when they arrive at the center, then they get to enjoy the open-style teaching method that allows for many games and activities to enhance student learning. Every classroom has a unique and colorful design that aims to increase student interest and love for their English school. Here at SuperKids, we have a high focus on building student character through learning English. Every aspect of our center has the ultimate intention of preparing students for a life of success through the talents, skills, and character traits that are taught here. These are all habits that can be learned through studying at the school, but it is also very important for parents and families to encourage students to constantly develop those skills and traits at home and in the community.
SuperKids has grown so much since it first opened in 2006. The center had to open a second location in 2012, and then relocate to a bigger building in 2014. Since the big move, our student population has reached over 1,750 students in both locations! Now, we proudly offer classes every day of the week, in our 10 classrooms at FSEC 1, 6 classrooms at FSEC 2 and 4 classrooms at FSEC 3.
Testimonial
"My name is Bronwyn Aspeling. I am from South Africa and have called Da Nang, Vietnam my home since May 2016. I studied a Bachelor's Degree in English and Education as well as a Post Graduate Certificate in Early Childhood Education (specializing in learners from birth to 9 years old). I am also TEFL certified. I have been working at Fisher's since July 2016 and I am so happy to have found an English Centre that has a deep love and care for the students and their growth. Fisher's SuperKids is more than an English Centre, it is like a specialized school environment. Moving from South Africa this was the most important aspect for me when applying at schools. Due to the great environment my passion for teaching and love for the learners continues to grow daily. I love the structure and support which Fisher's provides to all Teachers. The Academic team assists each teacher with material, ideas and classroom management. The constant support and professionalism makes Fisher's a dream job for any person who has a teacher's heart".