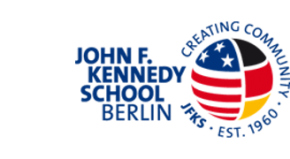 John F. Kennedy School
Berlin, Germany
John F. Kennedy School is a bilingual, bicultural, tuition-free public school based in Berlin, Germany. The school offers an integrated elementary and high school program and enrolls more than 1,700 students from a variety of different countries.
JFKS has a modern campus with 135 classrooms, nine science labs, three computer labs, two libraries, two gymnasiums and a fine arts center across its six buildings. Situated in Zehlendorf in Southwestern Berlin, the school is conveniently close to bus routes, the S-Bahn, parks and a district shopping area.
Upholding high academic standards of both the German and US education systems, JFKS gives students an opportunity to learn through different modes and strategies. Promoting learning as a continuous lifetime process, the balanced curriculum supports student growth in all areas, including fine arts, humanities, languages, sciences, mathematics and sports.
In guiding students to understand themselves and the world around them, JFKS fosters independent inquiry, critical thinking, open-mindedness and service to others. The school's curriculum and learning strategies encourage the development of responsible, democratic citizens.