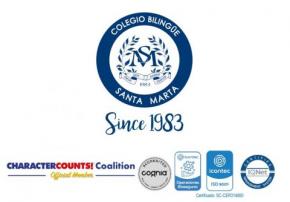 Colegio Bilingüe Santa Marta
Santa Marta, Colombia
Colegio Bilingüe Santa Marta -CBSM- is a private, non-profit, co-educational institution, calendar B (from August to June). It was the first bilingual school (English-Spanish) founded in Santa Marta, Colombia, and is currently one of the two internationally certified academic institutions in the city.
We are dedicated to educating well-rounded leaders, with social responsibility, sportsmanship, critical thinking, creativity and innovation. We strive for our students to reach their maximum potential in the ethical, spiritual, intellectual, artistic and physical dimensions, based on Christian Catholic values, without detriment to the freedom of worship.
Our curriculum is based on inquiry and understanding of concepts, with a disciplinary, transdisciplinary and interdisciplinary approach, guided by the Colombian national standards, which are also aligned with the American international standards of CCSS, NGSS and MI.
We have a multicultural staff from all around the World with a common factor: human quality. We work as a team in a respectful and inclusive environment.
Latest Teaching Jobs

Colegio Bilingüe Santa Marta
Santa Marta, Colombia, South America
License required