Where global ESL teacher recruitment has no limits
Language Schools
Where global ESL teacher recruitment has no limits
Tap into a vast international network of English-speaking teachers anytime to get the quality teachers you need.
Open the door to a whole world of teachers.
Find more ESL teachers for your school
Expand your reach
Get maximum visibility for your job vacancies on the world's largest careers site for ESL teachers. Post unlimited jobs and get unlimited applicants. Fill as many vacancies as you need.
Hire more teachers faster
Speed up the hiring process with our all in one platform to stay ahead of your hiring periods. Choose from thousands of active job seekers anytime. Get a higher volume of applicants for your vacancies.
Save money on recruitment
Pay less for recruitment so you can stay on budget. Our affordable recruitment solutions allow you to reduce recruitment costs while still offering you the volume of applicants you need.
Scale your business with us
Access to our growing network of ESL educators will give you an endless supply of new teachers and allow you to scale your business as you grow, open new centers, or manage peak season demands.
Your custom ESL recruitment solutions
Recruitment Subscription
Get access to the reliable and ongoing supply of teachers you need with a recruitment subscription. Meet your organization's demand for English lessons. Post unlimited jobs and hire all year.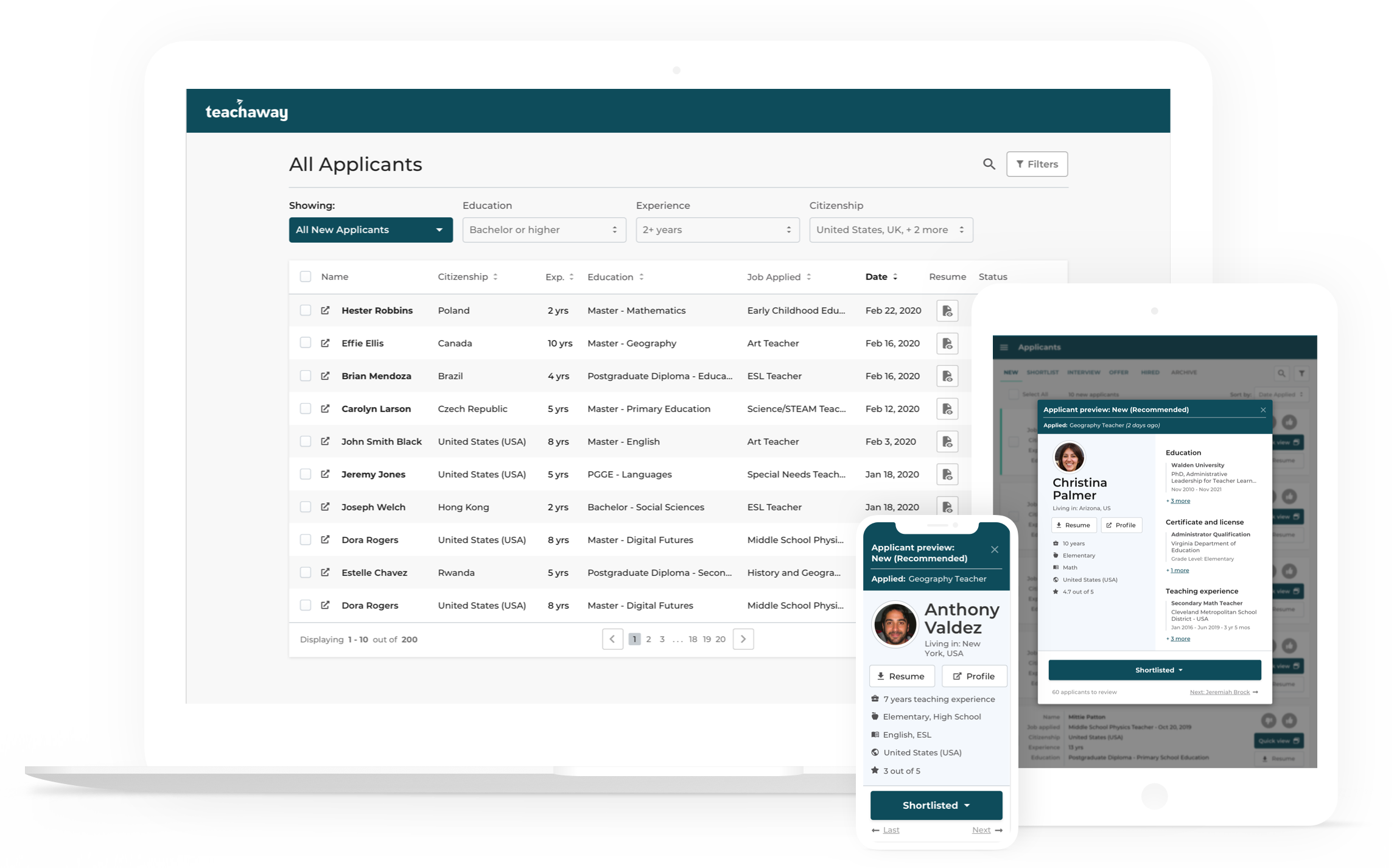 Connect with the largest network of job-seeking ESL educators
Meet thousands of teachers actively looking for jobs overseas with the world's leading ESL teacher recruitment agency.
Home to the largest online community of TEFL certified, native English-speaking teachers looking to teach abroad. And we offer world-class TEFL certification programs with OISE & UC Berkeley.
From world-class TEFL training to recruitment, we have a steady supply of teachers looking to teach abroad so you always have great teachers to choose from.
educators certified to teach english as a foreign language
teachers certified each year through our world-class TEFL certification programs
applications for language schools per month
What our partners are saying
Trusted by early childhood education centers worldwide











Helpful recruitment resources