Get more from your international school recruitment efforts
Access to the right teachers
Attract more qualified teachers on the job search channel they use most. Extend your reach with our community of thousands of international teachers so all the right candidates can find you.
Hire with confidence
Select the best teacher for your school so your students get the best learning experience possible. Our advanced filtering tools and robust candidate profiles (with confidential references) will help you make the right hiring decisions.
Accelerate hiring
Use one platform to speed up the international school teacher recruitment process so you can get more teachers when you need them. Connect with thousands of our licensed teachers around the world at any time, so you can hire faster.
Streamline your recruitment
Make recruiting teachers easier for your institution. Simplify your recruitment process with an easy-to-use recruitment platform made for international teacher recruitment.
Your custom international school solution
Explore the largest network of certified job-seeking teachers
Connect with thousands of qualified teachers in our global network actively looking for opportunities to teach abroad.
Our global teacher ecosystem is home to the largest online community of certified, English-speaking educators worldwide and a nationally-accredited teacher certification program. Teachers in our database have extensive experience teaching across many curriculums. The most popular being Common Core, UK Curriculum and IB.
Be confident you're always getting your vacancies in front of the best teaching candidates.
international schools hired with us
new certified/licensed teachers each month
years average experience of our certified teachers
What our partners are saying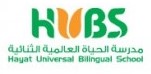 Hayat Universal School
"TeachAway has been our reliable partner in international teacher recruitment for the last 4 years. Their professional, user-friendly platform has helped us greatly in sourcing and hiring qualified and talented certified teachers for our school. We are regular participants at the TeachAway online job fairs, which are very well organized and recently enhanced with candidate pre-screening and chat pres-cheduling."
Hayat Universal School (HUBS)
American International School, Kuwait
"Teach Away has become a critical piece to our recruiting puzzle. Quickly, we can receive interest from many high-quality candidates. A go-to recruiting resource."
American International School, Kuwait
The Universal American School, Kuwait
"The Teach Away platform services are really good. We have experienced great online fairs, and we really appreciate the quick response and assistance from their customer service"
The Universal American School, Kuwait
Sarh Al Jaameah Private School
"The services provided by Teach Away have enabled us to connect with candidates from around the world. The dashboard and the hiring fairs have helped us to secure placements much faster than working alone."
Sarh Al Jaameah Private School
Trusted by international schools worldwide

Helpful recruitment resources