Recruit the right international school teachers for your students
K to 12 schools
Recruit the right international school teachers for your students
Creating the quality educational experience your students deserve, starts with the right teachers.
Reach better candidates faster with an international school recruitment company with a growing community of global teachers ready for hire.
Get more from your international school recruitment efforts
Access to the right teachers
Attract more qualified teachers on the job search channel they use most. Extend your reach with our community of thousands of international teachers so all the right candidates can find you.
Hire with confidence
Select the best teacher for your school so your students get the best learning experience possible. Our advanced filtering tools and robust candidate profiles (with confidential references) will help you make the right hiring decisions.
Accelerate hiring
Use one platform to speed up the international school teacher recruitment process so you can get more teachers when you need them. Connect with thousands of our licensed teachers around the world at any time, so you can hire faster.
Streamline your recruitment
Make recruiting teachers easier for your institution. Simplify your recruitment process with an easy-to-use recruitment platform made for international teacher recruitment.
Your custom international school solution
Recruitment Subscription
Manage everything with an affordable recruitment subscription that will keep you within budget. Attract and hire more great educators for less time and money, all in one platform.
Hire for immediate vacancies, or to put a long-term recruitment strategy in place. Our annual subscriptions provide the perfect solution to your school's hiring needs.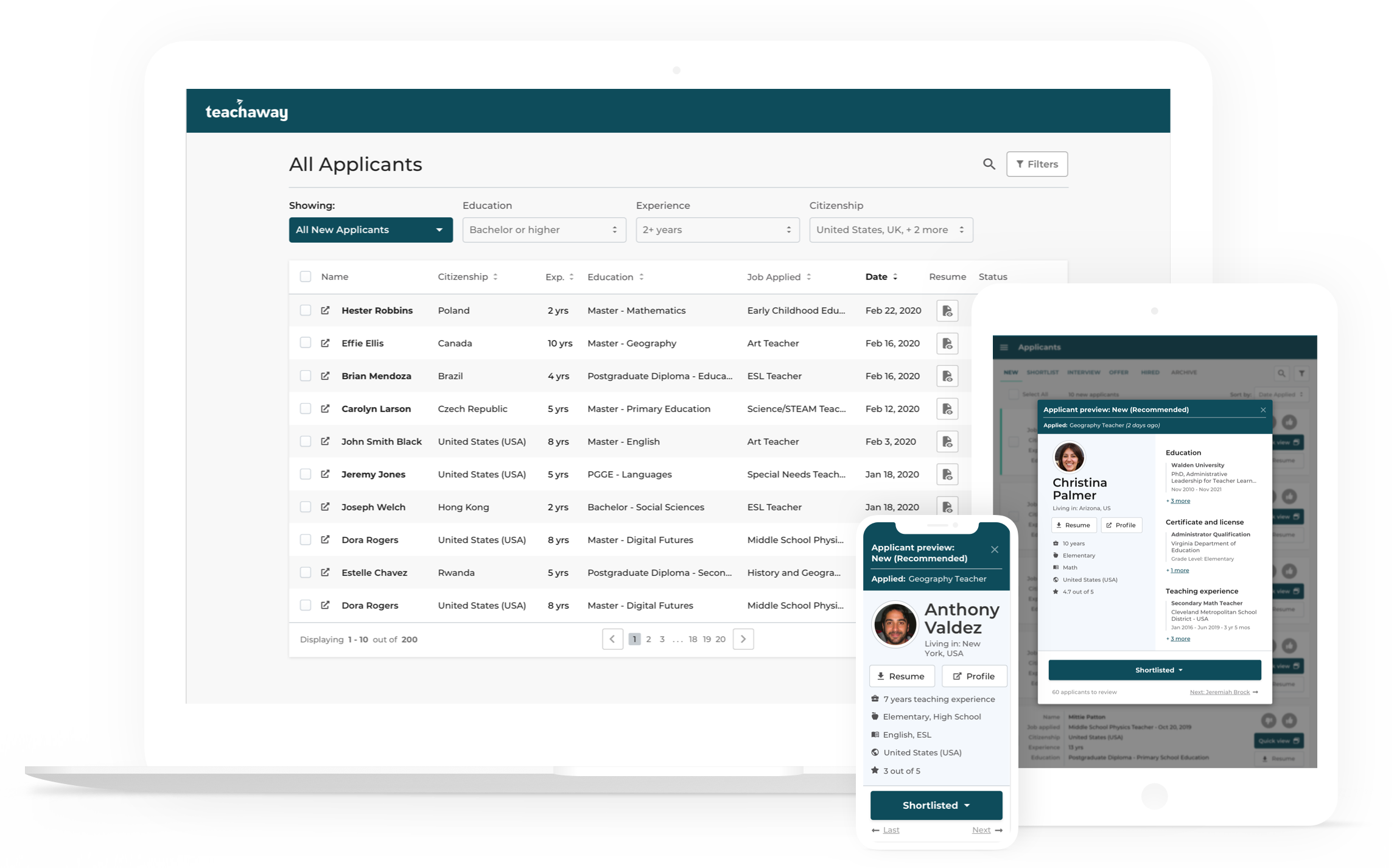 Explore the largest network of certified job-seeking teachers
Connect with thousands of qualified teachers in our global network actively looking for opportunities to teach abroad.
Our global teacher ecosystem is home to the largest online community of certified, native English-speaking educators worldwide and a nationally-accredited teacher certification program. Teachers in our database have extensive experience teaching across many curriculums. The most popular being Common Core, UK Curriculum and IB.
Be confident you're always getting your vacancies in front of the best teaching candidates.
international schools hired with us
new certified/licensed teachers each month
years average experience of our certified teachers
What our partners are saying
Trusted by early childhood education centers worldwide











Helpful recruitment resources