Unlock a world-class portal for teacher recruitment
Meet your global audience
Put your school in front of a global database of job-seeking educators on the world's largest education careers site. Access unlimited applicants anytime.
Manage everything easier
Automate your process for recruitment. Use our machine learning tools to find and select the best teaching candidates. Track everything online in one simple platform.
Get the most qualified candidates
Reach thousands of teachers and receive more applications from qualified candidates than anywhere else. Our teacher recruitment software allows you to track, filter, and short-list the best.
What to know about the platform
Exclusive network
When teachers look to teach abroad, they come here first. Home to the world's largest community of international educators.
We help teachers find great schools like yours. We're a trusted partner to thousands of education institutions around the world.
What attracts teachers to Teach Away?
We have been cultivating our teacher community for more than 15 years. Today, our teachers choose Teach Away because:
We're easy to find
More than 70% of job searches start online. When teachers search for jobs, they find Teach Away.
We have the #1 job board
We're the world's largest international education careers site and recruitment portal. When teachers look for jobs, they find them on the Teach Away job board.
We're a trusted advisor
With a library of thousands of resources, we're trusted within the international education community as a source of valuable information on teaching abroad.
Our friends tell their friends
We're known around the world for helping thousands of educators find their dream job. With a track record like that, word gets around.
How the platform works
We provide two simple ways to connect with your next great teachers.
Post your jobs
---
Post your job and advertise your teaching openings to candidates around the globe.
Search for candidates
---
Seek out the candidates who best match your requirements in our database, let them know you're interested and invite them to apply.
applications received each month
visits to our job board each month
new teacher registrations each month
visitors to our site
every day
search terms we rank #1 for on Google
A teacher recruitment partner for all schools
More than 2000 schools from all school types are finding great teachers at Teach Away. With over two decades of experience in international recruitment, we have unique solutions for every school.
Pre-K/ECE centres
---
Find early childhood educators to nurture your young learners.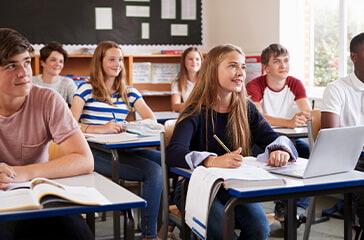 K to 12 schools
---
Hire licensed teachers to fill your open roles in any subject area.
Language Schools
---
Recruit certified ESL teachers for your English language learners at all levels.
Online teaching
---
Get a stable, reliable supply of online educators to meet your growing demands.
Goverments/ Ministries of
Education
---
We'll provide the expertise and support you need to achieve your recruitment goals – no matter how big or small.



Find and hire the teachers you need
Streamline your recruiting
From posting jobs to tracking applicants, manage your hiring in one place to speed up the recruitment process.
Find the best match
Find the right teachers for your openings with smart filtering tools, or let Teach Ai recommend the best candidates for your jobs using artificial intelligence.
Hire the best fit
Hiring smarter keeps staff longer. With access to candidates' profiles, you'll make more informed hiring decisions.