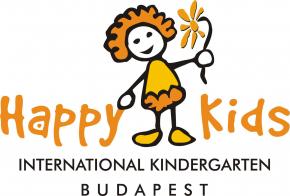 HAPPY KIDS INTERN. KINDERGARTEN
BUDAPEST, Hungary
HAPPY KIDS:17 years in the Buda Hills
The Happy Kids kindergarten, located in the Buda Hills, opened in January 2000 with just five children. In 2011, they opened a nursery class and now take children from 18 months. Currently, they have over 90 children in six classes (Brilliant Pandas, Cheeky Monkeys, Fantastic Foxes, Happy Hippos, Marvelous Meerkats and Tiny Tigers).
A question many parents often ask is "What makes Happy Kids special?" Mrs. Suzy Jones, Education Director offers some answers:
"We offer such a wide range of programs, both indoors and outdoors. We're not only looking after the children and caring for them, but we educate them from the first day they join us. We believe that their little brain cells are ready to open up if they are stimulated enough at a very early age," she points out. Activities include 'Creativity, nature, computer'; field trips and excursions; sports (gymnastics, swimming, pony riding, skiing); arts and crafts; a chess program (designed by Hungarian world champion Judit Polgár); and a road safety track. Afternoon activities include dance/ballet, 'Kindermusik', judo, a bully proof program, chess and art club.
The other program that sets HAPPY KIDS apart is the focus on individual development. "This is critical in our central philosophy of ensuring the best possible standards of education for our young ones. With a focus on English language development, our goal is to fully prepare the children for entry to any international school system through reading, writing and expression" adds Suzy Jones.
Over 20 nationalities are represented, creating a pure multicultural environment in which the English language is a common denominator. "From nursery age, we urge children not to speak any other language but English while inside the building. That is the only way we can ensure an English language environment for everyone." At the same time, the institution observes the customs and holidays of the different nationalities to ensure kids are even more aware of being in an international environment.
The staff is also international from countries such as Australia, U.K, U.S.A., India, Germany and Serbia.
The Happy Kids kindergarten has its own – a purely international – curriculum with strong connections to the British Early Years program; this carries the benefit that from here, kids can join any (British, American, Austrian, etc.) international school in Budapest or anywhere else in the world.