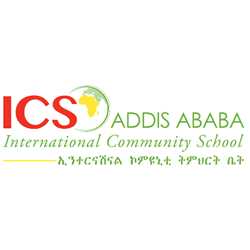 International Community School of Addis Ababa
Addis Ababa, Ethiopia
The International Community School of Addis Ababa is a premier early childhood through grade 12 school offering a holistic, vigorous and inclusive program. An International Baccalaureate Diploma school, accredited in the United States, ICS serves a diverse, multi-cultural student body on a beautiful, well-equipped campus.
Our mission is to nurture the talents, character and intellect of all learners, challenging them to be a positive influence and empowering them to excel in their world.
Our vision for learning at ICS includes:
engaging learning experiences through inquiry and reflection
a broad range of local, global and virtual opportunities
innovative and flexible use of resources

The school is located 15 acres, the campus integrates purpose-built classrooms, modern technology, outstanding athletic facilities and peaceful green spaces. ICS serves the educational needs of the international community in Addis Ababa in early childhood through grade 12. ICS has adopted a standards-based curriculum. These research-based and internationally recognized standards guide what students demonstrate, know and are able to do in each subject and at every grade level. ICS Addis is governed by a nine member Board of Governors. Seven members are elected for two-year terms by the ICS Parent Association.
| | |
| --- | --- |
| Enrollment | 871 Students PreK-12 |
| Curriculum | International Baccalaureate Diploma (IB Diploma), International Baccalaureate Primary Years Programme (IBPYP), United States |
| School Year | August - June |
| Year Founded | 1964 |
| Average Class Size | Elementary: 20, Secondary: 18 |
| Clubs | Honor Society |
| Campus Information | City (or closest city): Addis Ababa, Location Type: Urban, Campus Size (hectares): 6, No of Buildings: 10, No of Campuses: 3, No of Classrooms: 58, No of volumes in Library: 30,000, No of computer labs: 2, No of instructional computers: 430+ |