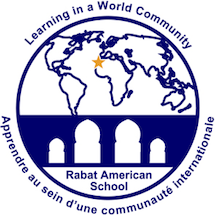 Rabat American School
Rabat, Morocco
GOVERNANCE AND HISTORY
The Rabat American School American School Association. the Association.is a private, nonprofit institution operated by the Rabat All parents who send their children to RAS are members ofThe Rabat American School was founded in 1962 as a K-8 school to meet the educational needs of the children of Americans affiliated with United States government agencies or private companies. The school originally functioned in a villa located near the U.S. Embassy.
In 1969, the school moved to its present Agdal site. The original buildings were erected during the tenure of Henry Tasca, United States Ambassador to Morocco, who offered his enthusiastic support to the improvement of the school facilities and the creation of an attractive campus.
In January 2019 RAS moved from its Agdal campus to its present location on the Rabat corniche. We are now located roughly ten minutes to the south of the center of Rabat. The school now owns both the land and the purpose-built facilities which include four classroom buildings, an auditorium, a learning commons, a cafeteria and a sports center that includes a gym, indoor swimming pool, weight room and aerobics room.
Over the years the school continued to grow and, although the majority of students continued to come from the resident American community, the enrollment began to reflect the growing interest of the international community in Rabat.
Today, the Rabat American School offers a strong college preparatory program from Pre-Kindergarten through 12th grade. Students may choose to pursue an American-style high school diploma or the International Baccalaureate Diploma. RAS offers a good student-to-teacher ratio, a multi-cultural mix of students, a commitment to standards-based curriculum and purpose-built facilities. A well-trained and committed professional staff join the Board of Trustees and community to provide the best education possible for our children. And we are committed to building upon the expertise of our practitioners to make RAS an educational model for other schools around the world.