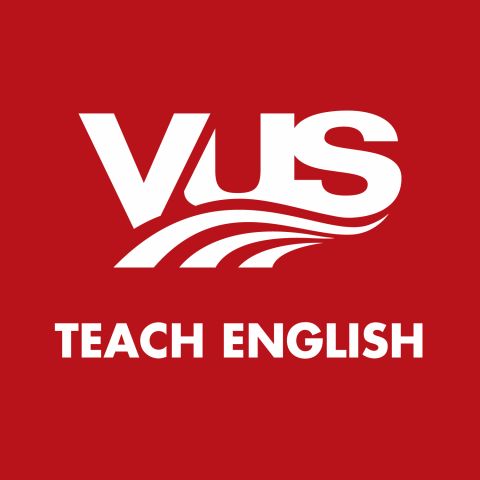 Featured Job
English Teacher
Vietnam USA Society English Centers
Ho Chi Minh City, Bien Hoa City, Thu Dau Mot City, Vietnam
Housing allowance provided on a monthly basis
Licensed Teacher, University Graduate, ESL Instructor
12 month full-time agreement
Guaranteed hours
Competitive hourly rate
NET payment (after tax)
Housing allowance
Vacation Allowance
Health Insurance
Initial comprehensive teacher training and compensation
Paid for temporary resident cards/work visa
Airport pickup and initial 7 days accomodation
VUS is looking for teachers who can work weekends and some weekday evenings with a variety of ages and levels. Though we have a range of ages and levels, teachers must be interested and able to teach 6 - 16-year-olds to be considered.
Our learners range from 4 years old, all the way up to high-level IELTS, TOEFL and corporate courses. VUS holds regular professional development workshops for teachers conducted by book authors, educational affiliates of VUS and our own academic team.
In addition to this, we have comprehensive Inductions, entrance workshops, peer observations, observations and feedback, mentoring, monthly workshops, teaching assistants for young learner classes and the largest TESOL Conference in Vietnam.
Expat teachers will focus primarily on communicative and skills-based lessons while the Vietnamese co-teachers will focus on grammar and writing as well as marking. Expat teachers have free time during the day from Monday to Friday with no additional admin responsibilities and no public school to teach.
We have modern facilities and classrooms with AC, projectors/smart TVs and computers. Each center's teacher's room is fully equipped with computers, printers, photocopiers, teaching aids, and refreshments.
We have expert work permit support and reimbursement as well as expert visa application support and Teacher welfare support.
The leader in the ELT industry
TEACH ENGLISH AT VUS
The leader in the ELT industry
Since its foundation, VUS has grown exponentially over the past twenty years to become the biggest English language training institution in Vietnam.
VUS has:
- 30 centers in Ho Chi Minh City, Ha Noi, Binh Duong, Bien Hoa and Vung Tau.
- 2,000 experienced, qualified expatriate, and Vietnamese teachers and teaching assistants.
- 900 professional school administrators and supporting staff members.
- An average enrollment of over 250,000 students per annum.
The largest ELT staff in the country
With millions of learners enrolling for its English courses since its foundation, VUS has built up the biggest ELT staff in Vietnam with more than 2,000 highly qualified, experienced, dedicated teachers and teaching assistants. Among the teachers, 45% possess a Master's or Ph.D. degree. VUS practices a professional and equal-opportunity recruitment process. Candidates must have internationally recognized TESOL certifications such as CELTA or TEFL, and go through steps of screening, interviewing, and demonstration teaching before joining VUS ELT staff.
Academic excellence
Thanks to its continuous effort in raising the quality of training and service, since March 2018, VUS has been proudly certified as an English center satisfying international criteria by NEAS – an independent organization evaluating the quality of English centers all around the world.
The record in Vietnam as the English center with the largest number of students receiving international certificates is a milestone proving VUS' mission and has made VUS a pioneer by achieving this impressive record in Vietnam.