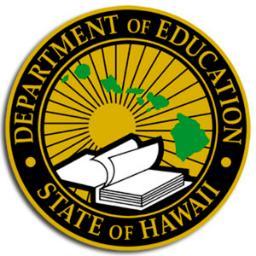 Featured Job
Science Teacher
Middle School, High School
Licensed Teacher, University Graduate
Bachelor

Teaching Credential/License
To qualify for a teaching position with the Hawaii Department of Education individuals must have earned a bachelor's degree and completed a State Approved Teacher Education Program from a regionally accredited college/university which includes student teaching in an elementary through high school setting. Applicants must also be legally authorized to work in the United States as a US citizen, US permanent resident, or in the US with a valid Employment Authorization Document (EAD).
Other ways in which you may qualify is if you:
Completed a state-approved alternative licensure program
Have a standard license and have taught under that license for three out of the last seven years in the state that issued the license
Completed a teacher education program in another country for which transcripts have been evaluated by an acceptable foreign credential evaluation service
Paid Sick Leave: 10-month full-time employees in service on the first work day of the school year shall have 18 days of sick leave credited at the beginning of the school year
Health Benefits: Benefits are offered by the Employer-Union Health Benefits Trust Fund (EUTF)
There is a $2,000 (taxable) bonus for licensed teachers employed at schools that are not designated hard-to-staff
There is a $3,000 (taxable) bonus for licensed teachers employed in geographical areas and campuses that are considered hard-to-staff locations: Hana Complex, Keaau Complex, Lanai Complex, Molokai Complex, Kau Complex, Nanakuli Complex, Pahoa Complex, and Waianae Complex
Take your teaching career to Hawaii! Teach Away is accepting applications from teachers for fantastic opportunities in the islands of Hawaii.
More about this opportunity:
The Hawaii State Department of Education (HIDOE) is the ninth-largest U.S. School District and the only statewide educational system in the country
HIDOE is comprised of 256 public schools, serving 180,000 students across six islands
HIDOE is looking for teachers who are caring, competent, effective, and committed to obtaining the best results for their students
There are six major islands in Hawaii: Kauai, Oahu, Molokai, Lanai, Maui and the island of Hawaii
The greatest demand for teachers occurs in more remote/rural areas such as, Hana Complex, Keaau Complex, Lanai Complex, Molokai Complex, Kau Complex, Nanakuli Complex, Pahoa Complex, and Waianae Complex
The initiatives and programs of the Department, a statewide school district comprised of 15 complex areas and 256 schools, are coordinated by a series of state-level teams and leaders who are focused on hitting the Strategic Plan's goals. Each of the 15 complex areas is comprised of two to four school complexes, consisting of a high school and the elementary and middle/intermediate schools that feed into it.
Please note that Teach Away provides information on behalf of schools and cannot accept liability for information provided or policies schools may adopt. Be sure to verify all details that apply to you, and check for the latest visa and work permit requirements. For any questions regarding job postings, please contact the school directly. Teach Away believes in diversity and inclusivity, and that everyone deserves to be treated with respect and be considered fairly and equally for employment. We ensure all schools we work with adhere to our pledge to promote inclusivity and diversity in education and recruitment practices.
Similar Jobs

Hawaii Public School
, Hawaii, US
License required

Hawaii Public School
, Hawaii, US
License required