Teaching abroad can be about so much more than just traveling and escaping the 9-to-5 grind for a year or two.
We all know that money isn't everything in life. But for so many of us, teaching abroad isn't just about seeing the world and experiencing life in a new country. Teaching abroad can also be a means for us to achieve our financial goals - anything from saving up for a down payment on a house to clearing our student loans.
The fact is, whether you're a licensed teacher weighing up your financial priorities and career goals, or a recent grad college simply wanting to make some extra cash to travel the globe, your teacher salary will more than likely be a critical consideration over the course of your job search.
In fact, we recently surveyed over 10,000 teachers from our international teacher community, and a whopping 82%* of you ranked pay as the most important factor impacting your decision on whether to apply for a teaching job abroad. And the good news is that, depending on where you're located, salaries for teachers abroad can be pretty lucrative.
That's why, to help you pick the right teaching destination for you, we've put together a list of the countries with the highest average teacher salaries: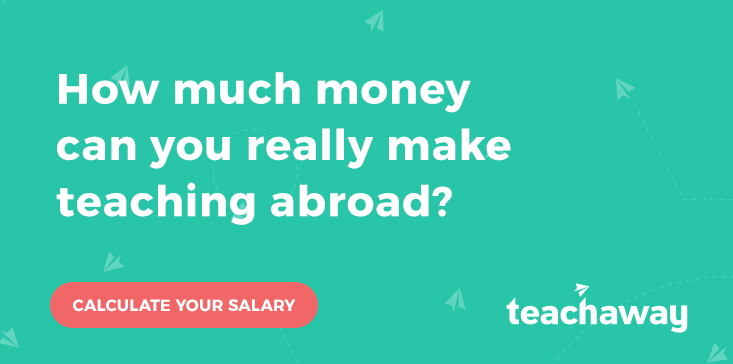 ---
Caveat: Teacher salaries will depend on the position, your qualifications and the location you're teaching in! When researching salaries, remember to take into account the often lower local cost of living in certain regions, especially Asia.
---
1. United Arab Emirates (UAE) - up to $4,100 USD/month, tax-free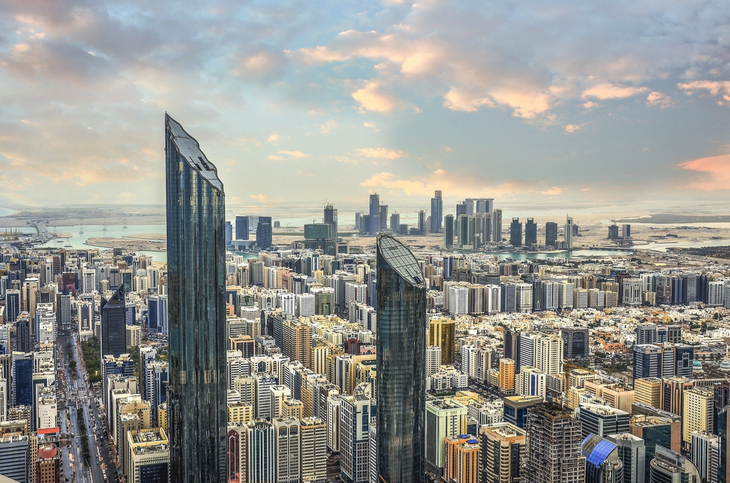 Abu Dhabi is a top choice for licensed teachers looking for a high-paying salary overseas. As an example, with a teaching license and three or more years of teaching experience, you can expect a monthly salary range of around $3,100 - 4,100 USD teaching with Emirates National Schools.
Alongside your base salary, teachers also receive an allowance for accommodation, health insurance, your cost of flight covered and ample vacation time.
A more urban location such as Abu Dhabi city will be on the pricier side in terms of accommodation costs, but as long as you commit to some budgeting you should be able to save with no problem!
Vacancies at Emirates National Schools for the 2018 school year include the following:
2. Kuwait - up to $3,700 USD/month, tax-free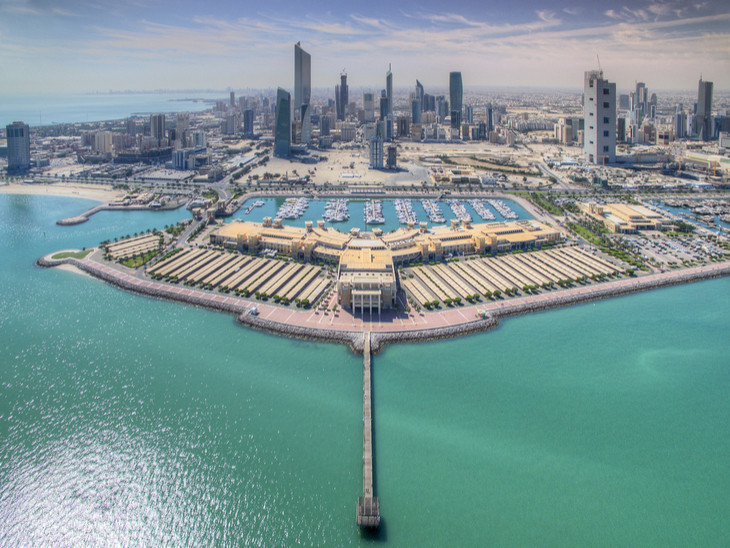 Kuwait is a modern coastal country, and it's one of the wealthiest in the Middle East! If you're a licensed teacher with classroom experience, Kuwait should be at the top of your job search hunt.
A teacher's salary in Kuwait is dependent on the hiring program and level of experience, but average incomes can range from $1,800 - 3,700 USD a month. Teaching jobs in Kuwait commonly come with great benefits as well, including airfare, housing or an accommodation allowance and health insurance.
Right now, American United School of Kuwait are on the lookout for licensed teachers across a variety of subjects and grade levels, to fill vacancies with August 2018 start dates:
3. Kazakhstan - up to $5,000 USD/month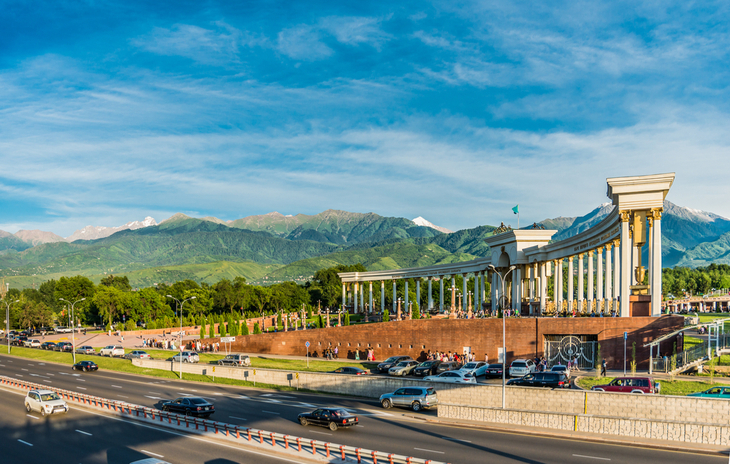 Often overlooked, Kazakhstan is a country nestled between Europe and Asia that offers some of the best and well-paying teaching positions abroad! Kazakh schools are quickly becoming more advanced and looking to align themselves with a higher-level Western curriculum. These positions are perfect for licensed and experienced teachers who want to save lots and maintain a high standard of living.
Salaries for teaching jobs in Kazakhstan can range from $4,000 - 5,000 USD a month and also include benefits like airfare, health insurance, relocation allowance, and accommodation allowance!
Right now, Nazarbayev Intellectual Schools in Kazakhstan are looking for a number of certified teachers across the following subjects:
Sign up to Teach Away today for access to the latest
teaching jobs around the world.
4. China - up to $2,500/month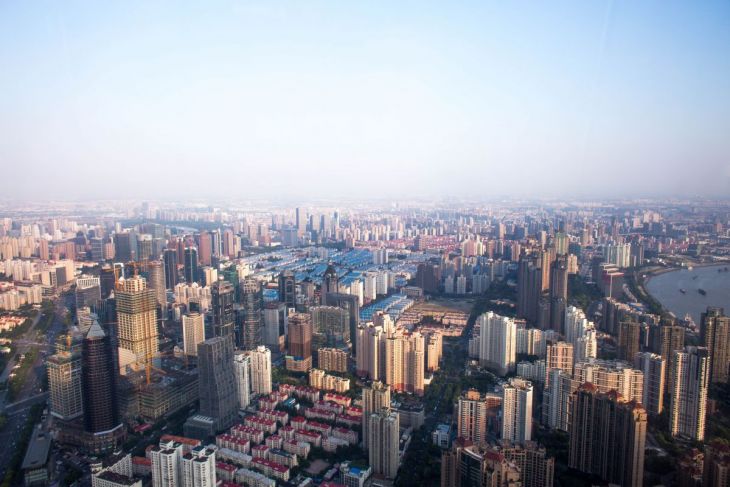 With over 300 million English language students, there's an insatiable demand for English-speaking teachers in China right now. Although China is still home to more than its fair share of hiring international schools seeking certified teachers, it also happens to be an especially great destination for experienced ESL teachers, as well as for recent grads regardless of your major.
Hiring schools in China that are a part of Teach Away's Explore Program require only a Bachelor's degree and TEFL certification and include benefits such as airfare, health insurance and a settling-in allowance. China's relatively low cost of living makes it more than attainable to not only save a large part of your salary, but also to set aside some money for travel.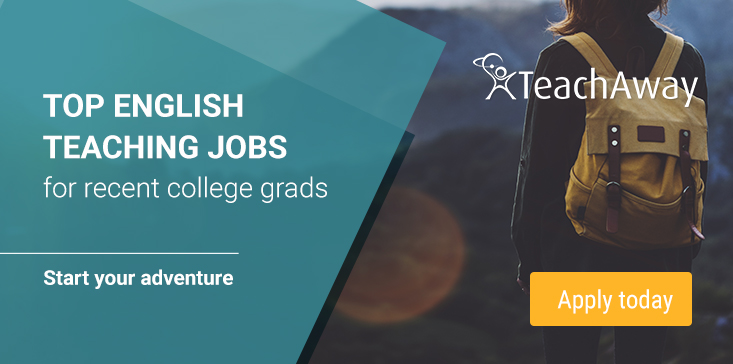 5. Korea - up to $2,000/month
South Korea offers some of the best ESL teaching jobs abroad for both licensed teachers and recent college graduates. A major perk? These positions have great benefits including free accommodation, roundtrip airfare and health insurance!
While teaching English in Korea, a teacher's salary is dependent on their experience level and can vary between private and public schools. That being said, new grads working as ESL teachers can still find it easy to save part of their salary, live comfortably and set aside money for travel. With some basic budgeting, living comfortably as a teacher in Korea is more than manageable!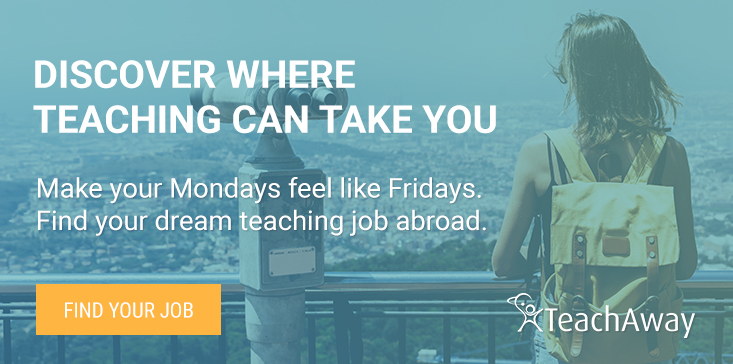 *Based on data from Teach Away's International Education Recruitment Report 2017. Weighted responses were based on a top three ranking. Job benefits options listed included salary & bonus structure, accommodation, medical benefits, relocation assistance, professional development funds and tuition for dependents.