Teaching in Kazakhstan
Options for teaching in Kazakhstan
Teaching in Kazakhstan is possible in both public schools and private international schools. Teach Away hires teachers for Nazarbayev Intellectual Schools, an expanding group of publicly-funded schools that aim to educate the future intellectual leaders of Kazakhstan. Teaching in this program is an excellent, highly-paid opportunity for experienced, licensed teachers.
Salary and benefits when teaching in Kazakhstan
Teachers who travel to Kazakhstan can expect to earn a generous salary and benefits including housing, utilities, and airfare.
Teach in Kazakhstan – Hiring
The school year in Kazakhstan begins in September and lasts until around June. Hiring will usually occur in the summer prior to the upcoming school year.
What you'll need to teach in Kazakhstan
Qualifications needed to teach in Kazakhstan
Candidates applying to teach in Kazakhstan should have a teaching license in their home state or country, as well as previous classroom teaching experience.
Visas for teachers in Kazakhstan
Teach Away placement coordinators provide assistance through the visa application process, although teachers are ultimately responsible for their own visa application. Teachers applying for a visa to Kazakhstan should be prepared to complete a visa application form and obtain an invitation letter from their employer, and a pre-entry health check. Other visa materials will include a passport and recent passport-sized photos.
Living in Kazakhstan
As with in any country, the cost of living in major cities is higher than that of remote areas; Almaty, in particular, is its most expensive city. Although spending will vary by individual, teachers should find living in Kazakhstan affordable. Teachers working for public schools will receive accommodation as part of their salary packages, allowing them to save a large percentage of their salaries each month.
Housing for teachers in Kazakhstan
The NIS program in Kazakhstan provides private accommodation for all participating teachers.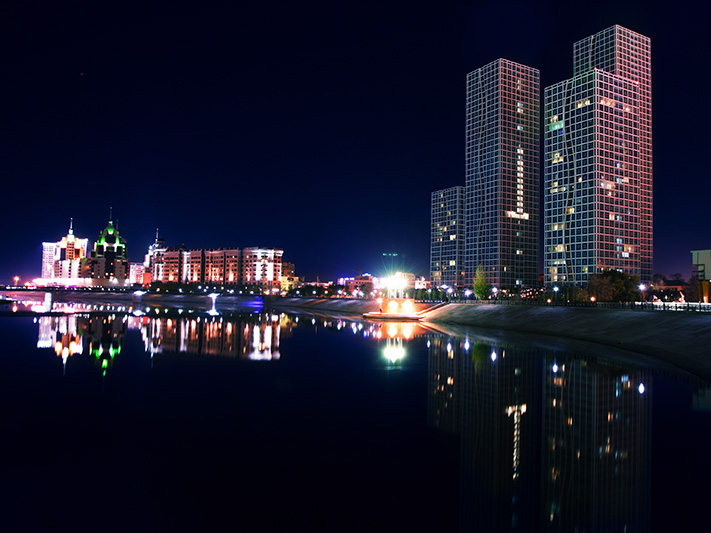 Things for teachers to do in Kazakhstan
Almaty, Kazakhstan's largest city, is an urban hub of restaurants, cafes, and museums. Residents of Almaty can spend time in the city's many parks, enjoy a range of foreign cuisines, and shop in the city's markets and malls. Because the city is surrounded by snow-capped mountains, skiing is popular in the winter, as is ice skating.
Astana, Kazakhstan's capital, is smaller than Almaty, but growing quickly. The city has a fascinating mix of architectural influences, and the futuristic Baiterek Tower is a popular site for travelers. Enjoy piping hot Boursaky (a sweet bread similar to a doughnut) or Shashlyk (shish kebab).
Everywhere in Kazakhstan, residents take time to enjoy a cup of tea in the afternoon. Enjoy Kazakh hospitality, try local specialties, and soak in the country's beautiful landscapes.
| Kazakhstan at a Glance | |
| --- | --- |
| Capital | Astana |
| Language | Kazakh,Russian |
| Population | 17,948,816 (Jul, 2014) |
| Currency | Tenge (₸) (KZT) |
| Government | Unitary Dominant-Party Presidential Rrepublic |
| Major Religion | Islam |
| Climate | Continental |
| Size | 2,724,900 km2 |