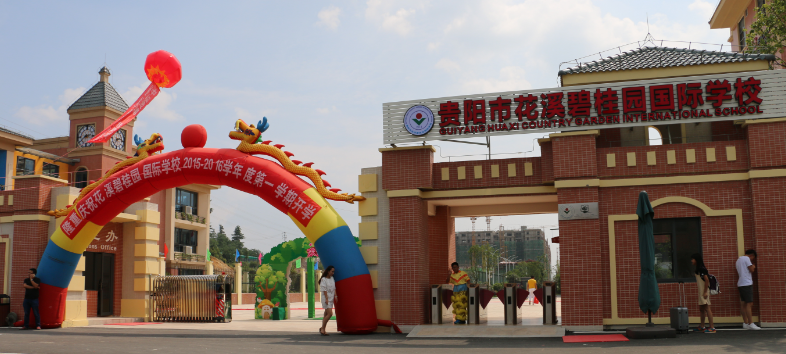 Huaxi Country Garden International School
Guiyang, China
Huaxi Country Garden International School (HXCGIS) is a co-ed private boarding school and member school of the Bright Scholar Education Group and located in Guiyang, Guizhou province, China.
The kindergarten was founded in 2014, and the junior and primary schools commenced operations on September 1st, 2015.
The school is located in the Huaxi District of Guiyang city in Guizhou Province which is often referred to as a "Natural Oxygen Bar" dueto its' verdant mountainous surroundings. The school itself covers an area of 8 hectares, with a total floor space of 100,000 square meters, surround by nearby green mountains, rural streams, lakes and pathways. This is serviced by a convenient and growing local transportation system linking it to Guiyang city and other nearby towns and villages – most notably Qinyan which is officially listed as a historically significant ancient fortress township.
HXCGIS is equipped with sophisticated facilities which include a swimming pool, two sports playgrounds, a gymnasium, a dance studio, two music studios, a library, two lecture halls, science laboratories. In addition there are many other functional classrooms and smaller tutorial rooms. All of the classrooms have advanced digital facilities: IWB (Electronic Interactive Whiteboards), TVs, computers and digital broadcast connections installed.
There are also on-campus medical services provided by a registered school nurse, around the clock security staff, and a dedicated team of caterers providing meals.
Based on a nine-year compulsory education, HXCGIS fully embraces International Baccalaureate educational concepts and an international curriculum. The school carries out trans-disciplinary units of Inquiry, andcontinually strives to cultivate future world leaders with both a Chinese identity and international-mindedness.
HXCGIS has attained membership of the CIE (Cambridge International Examinations) system and candidate school status of PYP (Primary Years Programme) within its first two years of operations.
Go Back to Bright Scholar Education Group.