Let your recruiting budget do more
Spend less per hire
Hire an unlimited number of teachers for one set price with no unexpected costs
Make ongoing hiring easier
Hire on demand by building your own talent pool of qualified candidates
Build your school's brand
A custom web page for your school drives applications from informed candidates
Get dedicated support
Our team is here to make sure your hiring needs are met every step of the way
How it works
Post your jobs
to thousands of qualified, job-seeking candidates
Receive applications
and build your talent pool for immediate and future vacancies
Hire unlimited teachers
and reduce your cost per hire without sacrificing candidate quality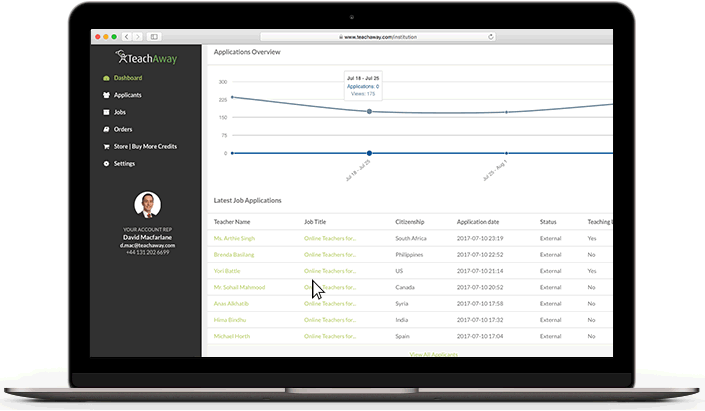 Want to spend less time and money hiring?
Request a demo of our Applicant Tracking System today and we'll show you how to make that happen.
We'll help you find the right subscription for your school's hiring needs
Our team is here to learn about your specific needs. Talk to us to find out how we can make your recruitment budget go further.
Contact us
What our partner schools are saying
Never miss out on a great teacher
Hire with Teach Away - world leaders in international teacher hiring
53,000+
applications each month
850,000+
engaged educators
15,500+
new teachers each month
Explore your recruitment options on a call with one of our friendly product experts today.