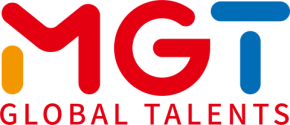 MGT Global Talents
Shenzhen, China
MGT Global Talents (Shenzhen) Co., Ltd. is specialized in international ESL teachers' recruitment, visa services, management and etc. The company's English abbreviation MGT stands for Make Great Team, which embodies the company's mission of helping enterprises and schools build great teams, helping talents select and integrate into great teams.
The company was established in 2018. The founders are from well-known international education schools and US-funded/European-funded Fortune 500 companies. Focusing on international education and emphasizing professional services are the characteristics of MGT. Up to now, we helped nearly 1,000 outstanding foreign teachers and other foreign talents to work in kindergartens, primary schools, middle schools, universities, international schools, training schools and other international business enterprises in China.
In education business, "student-centered" is the core value orientation of MGT. It is our corporate vision to provide high-quality international education teachers. Therefore, in terms of teacher selection, we only select high-quality foreign teachers who can apply for teaching work visas to ensure that teachers' qualifications are compliant, their positions are stable, and their teaching is excellent. At the same time, in terms of school selection, we only choose schools with legal qualifications and stable operations to ensure that the positions are compliant and stable. At present, we have cooperated with government-led projects such as Baoan District Education Bureau in Shenzhen and Suzhou Education Bureau, and cooperated with a large number of national and regional education groups. The schools are located in Shenzhen, Guangzhou, Dongguan, Huizhou, Wuhan, and Changsha. , Nanjing, Suzhou, Hangzhou, Ningbo, Shanghai, Beijing, Tianjin, Guiyang and other first-tier to third-tier cities.
Since October 2022, with China's visa and flight policies gradually returning to normal, we have helped many foreign teachers apply for work visas, enter China, and work in schools. At present, we still have a large number of positions open to outstanding teachers from all over the world.
Join MGT, let's Make Great Team.