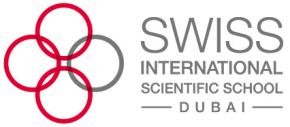 The Swiss International Scientific School Dubai
United Arab Emirates
About the School
The Swiss International Scientific School in Dubai (SISD) is a leading day and boarding school located in the centre of Dubai, where future generations are inspired to become confident and enthusiastic life-long learners, ready to embrace future opportunities in a competitive, global world.
Founded in 2015, our school currently welcomes 1200 students of more than 70 different nationalities, from Pre-KG to Grade 12 (ages 3 – 17). SISD follows the full continuum International Baccalaureate (IB) programme in three streams focusing on personalized learning and the development of 21st century skills.
Students choose between the international English with additional languages stream, the bilingual English-French or English- German streams. SISD is an IB Continuum World School authorised to offer and teach the IB Primary Years Programme (PYP), IB Middle Years Programme (MYP) and IB Diploma Programme (DP). SISD is also candidate school* for the International Baccalaureate Career-related Programme (IB CP). Our unique international curriculum offers an engaging learning experience, the challenge of developing a real understanding of cultural diversity and the support of a thriving international community. Our state of the art, eco-friendly campus ensures that we can offer a wide range of sporting and after school activities tailored to the personal needs and preferences of every student.
Our BEST school values are at the heart of everything we do. This approach to education recognizes the importance of developing lasting human values alongside academic success.
Bilingual
With English as the foundation, our students will also speak, read and write in French, German or Arabic.
As global citizens, we celebrate diversity, treating all languages and cultures with equal respect.
Excellence
We believe in having high standards and aspiring to be the best that we can be.
We foster the spirit of enquiry, encouraging both creative and critical thinking.
Sustainability
We believe that social, cultural, economic and environmental awareness prepare us to play our part in shaping a better future for ourselves and those around us.
Our school campus is eco-friendly, using less energy to deliver a more comfortable, healthier environment.
Together
In our international community, we know that when we all work together we are at our best.
We view active participation in the community, from the most local to the most global, as the foundation of a valuable life.
Our Programmes
At the Swiss International Scientific School in Dubai (SISD) we follow the framework of the International Baccalaureate (IB) programme as a full continuum school from Pre-KG to Grade 12. We are also a member of the Swiss Group of Schools, CIS and ECIS.
The programme from Pre-Kindergarten through to Grade 12 creates, develops and sustains a community of life-long learners and provides a coherent learning experience. The IB Programme aims to develop enquiring, knowledgeable and caring young people who help to create a better and more peaceful world through intercultural understanding and respect. It is a programme that encourages students across the world to become active and compassionate learners.
With an emphasis on developing a multi-lingual school community, we offer three streams at our school:
The international stream with English and additional languages (French, German, Arabic and mother tongue languages)
The English/ French bilingual
The English/ German bilingual
Our Teachers
We look to recruit enthusiastic and committed educators who have an international outlook and a passion for teaching. Successful candidates will have demonstrated that they are motivated and are committed to inspiring students and enriching academic excellence.