Teaching jobs in Colombia are much sought-after, and with good reason. Teaching in Colombia allows teachers to experience colorful South American life while teaching at excellent schools.
Private international schools in Colombia offer great opportunities for licensed teachers, while private language institutes offer teaching jobs to ESL instructors. From teaching in lively Bogota to teaching in beautiful Pereira, teaching in Colombia is an experience with plenty to offer. Whether you are new to teaching abroad or are a seasoned veteran, teaching in Colombia is an enriching and exciting way to fully appreciate South America's sights and sounds.
Private International School Teaching Jobs in Colombia
Teaching at private international schools in Colombia offers many benefits. Teachers can expect to earn a salary that allows them to live comfortably no matter where they are placed. While salaries may seem low compared to a teacher's home country, the cost of living in Colombia is also much lower. Most teaching jobs in Colombia for licensed teachers provide a salary of approximately $1,000 USD per month tax-free, though this amount will vary depending on qualifications and experience.
Teaching benefits in Colombia may include accommodations or an accommodations allowance, return airfare, medical insurance, paid vacation time, and contract completion bonuses. Typically, contracts for teaching jobs in Colombia are 2 years in length. Private international schools in Colombia require that candidates have at least 2 years of relevant teaching experience.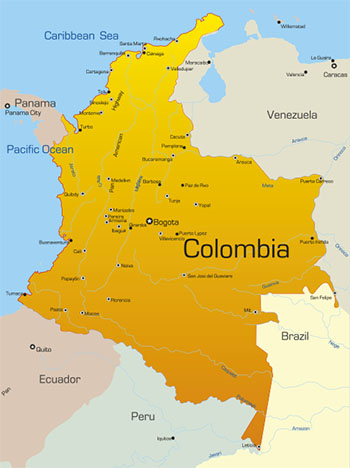 ESL Teaching Jobs in Colombia
Teaching ESL in Colombia provides teachers with a lot of flexibility, as most ESL schools in Colombia give teachers the option of working full- or part-time. ESL teachers will work with various age groups in a private English school setting; positions range from Kindergarten through high school and post-secondary education. While teaching English in Colombia, teachers may also be asked to contribute to school resources and materials, participate in language exchange, and offer tutoring during office hours.
ESL teaching jobs in Colombia typically pay $700-900 USD per month, and some schools will offer the option of paid overtime. With low monthly costs for teachers, teaching ESL in Colombia provides a salary on which teachers can live quite comfortably. ESL jobs in Colombia usually offer flexible vacation time, medical insurance, and professional development opportunities.
| Colombia at a Glance | |
| --- | --- |
| Capital | Bogotá |
| Language | Spanish |
| Population | 47,425,437 |
| Currency | Peso (COP) |
| Government | Unitary Presidential Constitutional Republic |
| Major Religion | Christianity |
| Climate | Tropical rainforests, savannas, steppes, deserts, mountain climate. |
| Size | 1,141,748 km² |
Have you considered teaching elsewhere in Central and South America?