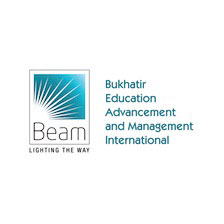 Bukhatir Education Advancement and Management
Sharjah, Sharjah, United Arab Emirates
Housing or housing allowance provided
Joining Ticket and airport pick-up provided
Bachelor
5 years of teaching experience
English Literature

Teaching Credential/License
Minimum five years teaching experience using the US Common Core Curriculum
Experienced as Head/Lead of English Department
Knowledge of Data Disaggregation, Analysis and Differentiation for Students
Must have IKHTAR as HOD English (applicable to UAE candidates)
Incentives at Beam
Annual air ticket allowance
Accommodation allowance or Company Accommodation
Private medical insurance
Tax-free salary
Tuition fee discount
Extra Perks
Unique faith-based environment
Second safest country in the world
Multicultural workforce
English widely spoken
Beautiful sunshine every day of the year
Fourth most visited city in the world
State of the art school facilities
Well-resourced school
Job Summary
The Head of Department is a leader of learning. The major responsibility is to ensure the highest quality of student learning in their areas.
To serve as a Head of English, coordinate and be responsible for all relevant subject teachers, ensuring they utilise detailed and structured planning and schemes of work, implement a broad range of strategies, differentiated work and materials to match the range of ability in classes.
Ensure that 100% of the students make progress towards the curriculum standards
Ensure to maximize the curriculum coverage with effective scope and sequence
Ensure to support improved performance for external benchmarking tests; review of the curriculum to include learning statements from MAP, CAT4 and TIMSS.
Ensure that there are sufficient opportunities for all students to showcase their abilities through curricular and extra-curricular activities promoting a broader 'curriculum' that enables students to develop a great range of skills and talents.
About BEAM
Bukhatir Education Advancement & Management (Beam) represents the convergence of Bukhatir Group's decade long experience in developing successful educational institutions and implementing advanced educational management systems in the UAE. Beam is most widely known for its excellence in operating the British K-13 and American K-12 curriculum school under the banner of International School of Creative Science (ISCS) and American School of Creative Science (ASCS). The Beam Creative Science Schools provide a unique combination of international curriculum blended with a strong Arabic language program delivered by highly experienced academic teams and technology infrastructure geared towards achieving strong teaching and learning outcomes. Our campuses are carefully designed to promote traditional moral values and ethos and focusses on building children's critical thinking skills and academic excellence.
The American Schools of Creative Science (ASCS)
The International School of Creative Science (ISCS)