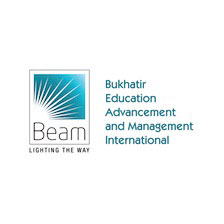 Featured Job
Social Worker - International School of Creative Science
Bukhatir Education Advancement and Management
Sharjah, Sharjah, United Arab Emirates
School Health and Welfare Staff
Bachelor
2 years of teaching experience
Psychology OR social work
Biligual (English and Arabic speaker)
Must be available in UAE for an interview
Attractive salary package
Private medical insurance
Tax-free salary
Tuition fee discount
Bukhatir Education Advancement and Management International (BEAM) is most widely known for its excellence in operating the British K-13 and American K-12 curriculum schools in Dubai and Sharjah under the banner of International School of Creative Science (ISCS) and American School of Creative Science (ASCS), together enrolling over 8,600 students in the United Arab Emirates.
Our schools provide a comprehensive education nurturing, cultivating and fostering innovative, creative and critical thinking skills all encompassed in a Muslim faith-based environment with a strong emphasis on developing the total child. Creative Science Schools the leading schools providing the best of the UK/US, Arabic and Islamic Studies Curriculum together with an unparalleled Quran programme for all our Global Leaders of Learning, Life, Humanity and Faith.

We are looking for creative, passionate, outstanding teachers who value professional development opportunities and a good work-life balance to join our dedicated and highly experienced team of educators.
Job summary
Provides social work counseling to students and parents; provides psycho-social assessment and diagnosis of behavioral disabilities with recommendations and/or environmental manipulations at the school, home and/or in the community with periodic re-evaluations
Participates in case conferences involving cooperation with school personnel and parents; makes a referral to the Ministry of Education with appropriate follow-up; serves as a liaison between school and families
Key responsibilities
Assesses social, emotional and educational problems which affect a child's ability to benefit from available educational opportunities
Maintains supportive relationships with children, parents/carers and teachers, so that help can be given towards the alleviation of problems concerned with school attendance, material difficulties, mental and physical disabilities and behavior
Assists in establishing good relationships and understanding between school staff, parents and children by interpreting the school situation to the family and vice versa
Enforces legislation and by-laws relating to school attendance and behavior
Helps to arrange alternative education for pupils unable to attend due to short-term illness
Helps to improve the links between the school and home, this can involve working closely with parents, teachers, educational psychologists and other services
Writes reports and prepares evidence for MOE and other offices so as that the School role may be efficiently and compassionately fulfilled
About BEAM
Bukhatir Education Advancement & Management (Beam) represents the convergence of Bukhatir Group's decade long experience in developing successful educational institutions and implementing advanced educational management systems in the UAE. Beam is most widely known for its excellence in operating the British K-13 and American K-12 curriculum school under the banner of International School of Creative Science (ISCS) and American School of Creative Science (ASCS). The Beam Creative Science Schools provide a unique combination of international curriculum blended with a strong Arabic language program delivered by highly experienced academic teams and technology infrastructure geared towards achieving strong teaching and learning outcomes. Our campuses are carefully designed to promote traditional moral values and ethos and focusses on building children's critical thinking skills and academic excellence.
The American Schools of Creative Science (ASCS)
The International School of Creative Science (ISCS)
Also known as remote teachers, distance teachers or virtual teachers, online teachers and online instructors are trained to teach students online. Online teaching jobs can range from blended courses that offer a combination of in-person and online instruction, to fully online learning. Online teaching offers job opportunities for a wide range of educators, from elementary school teachers to college professors. Online teaching jobs can be either full-time or part-time. If you're a qualified teacher with experience in a classroom setting, then online teaching could be your next big career move.