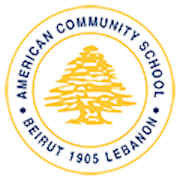 American Community School Beirut
Beirut, Lebanon
American Community School Beirut is a non-profit, independent, secular American college preparatory school serving a multicultural international student body in Beirut, the capital of Lebanon.
ACS provides internationally-enriched, standards-based curricula, preparing students for the International Baccalaureate, the Lebanese Baccalaureate, and the American College Preparatory Diplomas. The school is accredited by both the Lebanese Ministry of Education (MOE) and the Middle States Association of Colleges and Schools (MSA).
ACS is aligning itself with the US Department of State's AERO Standards to be sure that international education represents the same high quality everywhere. ACS is a member of the group of schools designated by the US Department of State, Office of Overseas Schools.
ACS supports teacher growth and provides an opportunity to enhance and challenge both professionals and students in their community. Seminars, conferences and workshops are offered regionally and globally from Amman to Berlin, Istanbul to Dubai. You will have opportunities to work with international peers who share a commitment to excel in overseas teaching. You can attend workshops, conferences and enroll in masters programs - all aligned with your professional development goals - with appropriate financial help from ACS.