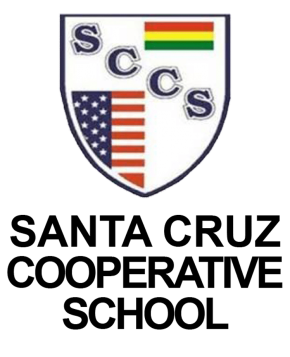 Santa Cruz Cooperative School
Santa Cruz, Bolivia
The Santa Cruz Cooperative School is a private, coeducational day school which offers an educational program from prekindergarten through grade 12 for students of all nationalities. The school was founded in 1959 and officially formed into a cooperative of parents in 1971. The school year comprises two semesters extending from the beginning of August to mid-December and from mid-January to the beginning of June. The school is accredited by AdvancED and the Ministry of Bolivia.
The curriculum is that of a U.S. college-preparatory program accredited by AdvancED along with additional courses for students to meet the requirements of the Bolivian Bachillerato. Spanish is required for all students in grades 3-12. Prekindergarten and kindergarten students may be enrolled without having a command of the English language; however, all grades are taught in English and require grade-level proficiency in English. Advanced Placement courses are offered that include: biology, calculus, Spanish, psychology, world history, U.S. history and English. Electives are offered include art, band, yearbook, drama, programming, community service, and Student Council. Extra-curricular activities include GIN Club, Honor Societies (NHS, NJHS), art, music, handicrafts, environmental awareness, and sports such as soccer, basketball, volleyball, and track and field.

Enrollment is currently 692, 61 academic staff from Argentina, Bolivia, Canada, Central America, and the United States. Class sizes range from 16 to 27.