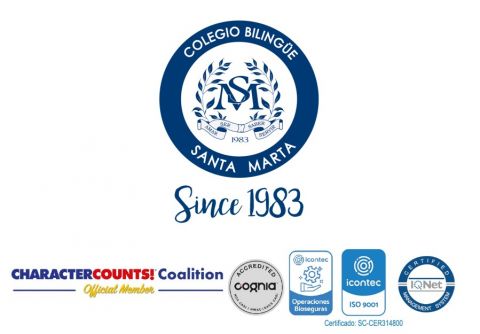 Featured Job
Elementary School Math/Science Teacher
Colegio Bilingüe Santa Marta
Santa Marta, Colombia, South America
Bachelor
2 years of teaching experience
Mathematics - Science - Education

Teaching Credential/License
Foreign teachers must accredit the same training required for nationals, and if they do not have a degree or do not have similar studies with a Bachelor's degree, they must present a certification of training for teaching or PCE (Postgraduate Certification in Education)
Due to visa requirements, we will accept applications from the USA, Canada, UK, Ireland, and Australia. However, the school can consider candidates from other nationalities as far as they certify a C1 level of English with certification no older than two years from the issue date until the entrance to the school.
All diplomas must be apostilled.
Up to five nights in a hotel, including breakfast, while the teacher finds a suitable apartment. After that, we can recommend a real estate agent to help the teacher find an affordable apartment, hopefully before arrival.
Relocation Bonus COP 1.100.000 (only paid the first year at entry), this bonus we will settle with the first salary at the end of August.
The school will pay for a year of prepaid Colombian medical insurance during the contract for the hired teacher, renewed every year.
Like school scholarships for children, other benefits may apply to individual cases.
If the teacher repeats the covenant with CBSM (same conditions every year until the teacher decides not to renew with the school):
COP 1.000.000 bonus payable upon return in August every year.
The school will pay a U$ 500 premium, expected in August every year upon return.
Our school is an open-minded, welcoming community, which identifies itself with the principles of the Roman Catholic Church, but welcomes people from other creeds. We are an accredited AdvancED school. Our interest is to hire teachers who will bring to our school fresh ideas, open-minded individuals interested in exploring and expanding their best practices in challenging learning, professionally growing, and evolving educational environment.
We are looking for teachers with robust leadership capacity, vital planning and organization abilities, willingness to change, assertive communication, and proven adaptation skills. Teaching assignments can include homeroom teaching. On the other hand, Santa Marta is a city that preserves the charm of the coastal towns, surrounded by beautiful beaches and landscapes framed by the stateliness of the Sierra Nevada. Any teacher who will come to our school will find a warm, family-like working environment and a community that embraces its core values embedded in its principles: to be, to know, to love, and to serve.
Colegio Bilingüe Santa Marta -CBSM- is a private, non-profit, co-educational institution, calendar B (from August to June). It was the first bilingual school (English-Spanish) founded in Santa Marta, Colombia, and is currently one of the two internationally certified academic institutions in the city.
We are dedicated to educating well-rounded leaders, with social responsibility, sportsmanship, critical thinking, creativity and innovation. We strive for our students to reach their maximum potential in the ethical, spiritual, intellectual, artistic and physical dimensions, based on Christian Catholic values, without detriment to the freedom of worship.
Our curriculum is based on inquiry and understanding of concepts, with a disciplinary, transdisciplinary and interdisciplinary approach, guided by the Colombian national standards, which are also aligned with the American international standards of CCSS, NGSS and MI.
We have a multicultural staff from all around the World with a common factor: human quality. We work as a team in a respectful and inclusive environment.
Please note that Teach Away provides information on behalf of schools and cannot accept liability for information provided or policies schools may adopt. Be sure to verify all details that apply to you, and check for the latest visa and work permit requirements. For any questions regarding job postings, please contact the school directly. Teach Away believes in diversity and inclusivity, and that everyone deserves to be treated with respect and be considered fairly and equally for employment. We ensure all schools we work with adhere to our pledge to promote inclusivity and diversity in education and recruitment practices.