So you want to teach English in Europe…maybe you're suffering from a serious crush on the continent (aren't we all!) or perhaps you already live there and want to explore some of your neighboring countries.
Europe is just one of those places that sounds romantic. Whether you're from Europe or not, there's such diversity of countries across the continent that there are at least a couple of European countries on most people's bucket lists.
Portrayed in Hollywood movies and literature as a destination brimming with quaint villages, cultural savvy and proper pizza (and that's before you start talking about all the lovely accents ❤️), Europe is the perfect place to whip out your TEFL cert and get teaching!
It might seem like an unattainable dream – to live in Europe and teach English for a living. But it's more than possible. There are plenty of schools looking for teachers all year round. And we've got the low down on the best European English teaching programs for ESL teachers.
So whether you're longing to teach English in France, Germany, Italy, Spain…or even Switzerland, there's more than enough demand for fluent English speakers to go around.
We're going to cover the top 7 English teaching programs in Europe.
So let's get started….
7. Fullbright teaching assistantships in Germany
Germany is an interesting place to teach English. The country has a rich culture with cities that live in the imaginations of people all over the world. From Berlin to Munich, there's no shortage of history and adventure to be found on German soils.
With a reasonable cost of living, excellent health care and an ideal location (smack bang in the middle of all the bucket-list countries) for travel-minded teachers. Known for its public transport, those that dwell in Germany can hop on a train at the weekends and find yourself in France or Switzerland in no time at all!
Boasting a fine education system, Germany doesn't have the highest demand for English teacher – but there still is demand! Fullbright teaching assistantships are open to US citizens who hold a bachelor's degree. One of the caveats is that applicants with high academic achievements will be the ones who get chosen. So for all those clever clogs boasting an impressive GPA, this is the teaching opportunity for you. Not only will it look awesome on your resume, but you'll get to explore German culture first hand.
The positions offer lots of support with a monthly stipend of about $960 as well as health insurance and a series of meet-ups throughout the year.
You can find out more about the Fullbright teaching assistantships here.
Read this: Dreaming of teaching abroad? Here are the 5 best programs hiring right now!
6. Central European teaching program in Hungary (CETP)
Teaching English in Hungary might not be the first adventure that crosses your mind when you think about teaching in Europe. But that doesn't mean you should discount it. With a unique history, seriously stunning architecture and heart-warming dishes like goulash and chicken paprikash (gotta love a rhyming menu!) – this country is definitely a home away from home.
The CETP program is open to native English speakers from any European country, the US and Canada. There are positions in the countryside for teachers who don't have a four-year degree, but if you want to be placed somewhere like Budapest, then you'll need an undergrad degree in any subject, a TEFL certificate and 20 hours of teaching experience.
Teachers are paid a stipend of about $500 per month, which will go a long way as there is a very cheap cost of living. Health insurance is covered by the government, so you don't need to worry about any pricey trips to the doctor's office.
If you'd like to find out more about the CETP program in Hungary, check out their program FAQs.
5. Teachers of English program in the Czech Republic
Have you ever considered teaching English in the Czech Republic? Well, now's your chance! If architecture is your thing, then you'll be in for a treat. From ornate castles to craft beers, this country is home to the elegance of Prague and a pretty mean apple strudel. Like many places in Europe, there's a deep sense of history as you wander the streets of the Czech Republic.
The Teachers of English Program is stricter than some in terms of its requirements. It's mainly aimed at primary and secondary school education with ESL teachers coming in to teach the conversation classes to these age groups. Teachers will be expected to complete an entire year of teaching from September of the year they start. Teachers are required to have at least a degree (and preference will be shown to those with a background in education) as well as a TEFL certification and some teaching experience.
The salary is in line with the cost of living and teachers will be paid about $1,200 per month. Accommodation will either be provided for free or a very small fee. It's organized by the school, either way, to save you having to negotiate!
To find out more about the Teachers of English Program, visit the Czech Republic Embassy website.
4. TAPIF program in France
France is beckoning! Freshly-baked baguettes from the boulangerie first thing in the morning, cycling through winding vineyards and sipping coffee on cobbled streets ☕. That is certainly the life, and France is possibly one of the best places to live it. Get back to us once you've tried all three! Oh…and for those of you so inclined, all of the wine.
For those of you hoping to teach English in France, the TAPIF program is definitely your best bet. Open to new graduates, it requires only a 12-hour teaching week, leaving you plenty of time to learn French and get acquainted with your surroundings. This particular program is open to US citizens between 20 and 35 years old.
Unsurprisingly, teaching in France is on a lot of teachers' wish lists – so make sure your application is competitive with a TEFL certificate.
You in? Find the full deets on the TAPIF program and its application deadlines.
3. Language and Culture Assistants in Spain
With its warm climate, siestas, beaches and bustling cities, who wouldn't want to live in Spain for a year? From the street artists speckling the streets of Barcelona to the dram of the flamenco , and the action-packed ski seasons in the Pyrenees – there will never be a shortage of things to do…or eat. Tapas & Rioja, anyone?
Becoming an Auxiliares de conversación (aka a language assistant) is one of the best ways to teach English in Spain. English teachers will be asked to work anywhere between 12 – 16 hours a week. Residents from any of the following countries are welcomed: any EU country, the US, Canada, New Zealand, Australia or China. The salary can be anything from $790 – 1,100 which is plenty to get by in a country with a fairly low cost of living.
To qualify, you will need to have a TEFL certificate and at least be enrolled in a four-year degree program! Other than that, it's not overly strict and teachers with relatively little or no experience can land a spot on the program.
For more information on becoming a language and cultural assistant in Spain – check out the program's official website.
2. SITE program in Italy
It's hard to imagine living in Italy without an entire list of food running through your mind…. So, let's get that over with first…?☕….
Needless to say, if you opt to teach English in Italy you'll be fed well. From its quaint cafes to seaside towns and picturesque cities, Italy is a place that lives in the hearts and minds of people all over the world.
If you want to teach English here, it's worth looking into the SITE program. Aimed at US students, they recruit teachers with at least a 3.25 GPA and who are enrolled or recently graduated from a four-year university program. There's also some expectation that you have a little Italian proficiency, so it's the perfect opportunity for students of the language. Teaching hours are capped at 12 hours per week with salary coming in at just about enough to cover the cost of living ($790 per month).
For more info, check out the SITE website.
1. The Switzerland Language Assistant Program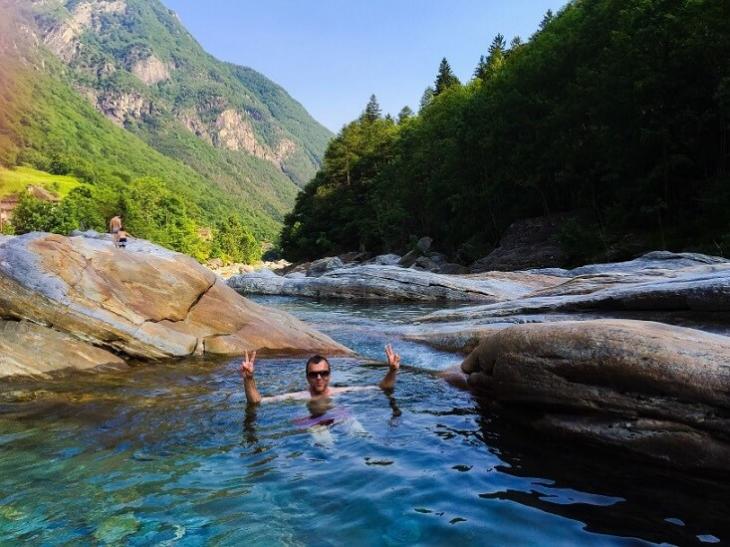 Nestled in the heart of Europe, there's no doubt that Switzerland is a wonderful place to teach English and indulge in the odd adventure. We're talking mountains, chocolate, castles and placid lakes…ehm, and teaching, lots of teaching!
The education system in Switzerland is ranked one of the best in the world. It's a country teachers tend to enjoy teaching as teachers are valued. You will only be expected to teach about 12 hours a week, with the most a school can ask for maxing out at 20 hours. Leaving you plenty of time to plan classes…and weekend adventures! ⛰️
With both German and French-speaking regions, you're most likely to find yourself in a Swiss-German school with this program. That's not to say there aren't French positions available; there are just more German ones.
Perhaps one of the highest-paid English teaching gigs in Europe, this program offers the equivalent of $3,200 per month and hires assistants for a September start date. The one thing to note is that teachers should at least have a TEFL and two years of a degree completed to qualify. There is an age restriction for this program of 25 – 35 years old, so there's only a 10-year window in which to take advantage of the program! It's also a one year post, with those who want to stay having to reapply for a second year.
For more information about this program, read the British Council's Program notes.
Sign up to Teach Away today for access to the latest
teaching jobs around the world.
Before you go! Here are the typical hiring seasons for schools in Europe?
Although there is never any hard-and-fast rule for hiring seasons, it's worth noting that European schools tend to recruit the bulk of their teachers for the start of term (September). So there's generally more jobs available around August/September, with last-dash applicants still being hired in October. There's a subsequent hiring period in January for open positions after the winter break.
But we wouldn't let this guideline limit you. It's possible to land a job teaching English in Europe at any time of the year.
Read this: The best time of year to look for a teaching job abroad revealed
How do I land a job in Europe though?
There are two main ways to go about this! The first is the more traditional method of scouring teach abroad job boards and trying to find a job that suits you, applying to programs and waiting. But there's another way. It might take a little bit more bravery and we know it's not for everyone….
Just jump on a plane
Wait, what? I hear you asking. And that's a perfectly natural response. But the truth is a lot of European schools don't bother advertising online, particularly in countries like Spain…one of the best ways to actually teach there is to be there. The schools will usually be open to teachers knocking on the door and handing in a resume.
There are so many ESL schools in Europe (even in the English-speaking countries like the UK and Ireland) because the continent is a melting pot of cultures, and whether you're living in London or on a Greek island…there is going to be a need for ESL teachers. If you fancy a job in an English speaking country, you may want to invest in a TESOL or CELTA certificate, as these jobs are a bit more competitive.
And if you've got a TEFL cert then make sure you land in a country where English is not the primary language! Which is pretty much most countries in Europe. So whip out the world map and get plotting, your European teaching adventure awaits! ✈️
What are the requirements to teach English in Europe?
There are opportunities for those with and without degrees. But if you're looking for more than just a voluntary or summer position, we recommend having at least a BA to your name before landing. That, coupled with a TEFL certification and fluency in English should be enough to land you an ESL job in most European countries. Although, be warned! If English is the native language (Ireland, Scotland, England, Wales), you may want to consider having a CELTA/TESOL certificate to help get you in the door.
The last word on teaching English in Europe (we promise!)
The programs we've listed are far from the only opportunties to teach in European countries. We recommend downloading our country comparison chart if you'd like to find out more about the sheer wealth of ESL opportunities that span the continent.