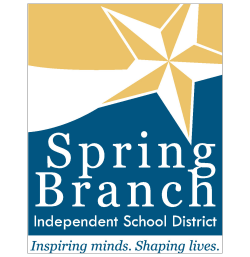 Spring Branch Independent School District
United States
Inspiring minds. Shaping lives. It's not just a tag line...it's a promise.People make the difference. Our educators and staff believe that all children can and will achieve their highest potential, and that everyone in the Spring Branch school district and area community is responsible for inspiring students to find their passion, and shaping that passion into a path to future success.
Our staff and educators are committed to ensuring all students graduate prepared to make a positive impact in their own lives, and in the life of the community. Our Goal SBISD's goal is to double the number of students who graduate and go on to successfully complete some form of higher education. This goal, known as Spring Branch T-2-4, drives our work. To achieve our goal, we need the best and brightest educators and leaders.
Don't just make a difference. Make the difference.
We believe a student's success starts with a great teacher. When you combine a great teacher and student...great things will happen! Research shows that teachers are the most important school-related influence that can positively impact student achievement and life-success. Great teachers engage students in learning, expand the possibilities, build futures and turn dreams into realities. We are looking for leader educators who are passionate about what they do, and who can share that passion with their students, co-workers and campus communities.
Spring Branch T-2-4 To achieve our goal of T-2-4, and sustain excellence for all children in the future, SBISD is investing heavily in our people. We are committed to identifying and developing strong leaders within our school district.
Some of the most inspiring and action-oriented people go into education as their life's work.
Ask yourself...
Are you a highly effective educator who has the capacity to engage students and empower them to succeed?
Do you set goals and achieve them?
Do you hold your students, your peers and yourself to the highest standards?
Do you believe all children have the ability to learn? If you answered YES...we need you to apply to be a teacher in SBISD!
Our educators have the opportunities and support they need to excel in their classroom and beyond.
Excellent Benefits & Salaries
Innovative Instructional Methods
Outstanding Support at All Levels
Growth & Leadership Opportunities
Community Supported Schools With Modern Classrooms
State-of-the-Art Technology & Resources
Resources/Links:
Our Teachers
https://www.springbranchisd.com/pdfs/HR/teachers2.pdf
Our Area
https://www.springbranchisd.com/pdfs/HR/area.pdf
What is Spring Branch T-2-4?