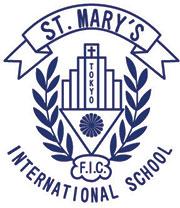 St Mary's International School
Setagaya, Japan
St. Mary's International School, founded in 1954 by the Brothers of Christian Instruction, is an all-boys Catholic school whose mission is to Instruct, to Educate and to Impart Christian Values. Serving the international community of Tokyo, St. Mary's enrolls students from over 55 nationalities and all religious backgrounds. The school follows a college preparatory curriculum with virtually all of its graduates attending university. The largest percentage complete their higher education in North America or the United Kingdom but graduates can be found all over the world.
Classes are taught in English following a North American/International curriculum. The International Baccalaureate is well established in the high school on both the Diploma and Certificate levels. Students from grade two study Japanese language. French is also offered in grades 7-12.
The school is located in Tokyo's largest residential area on a nine acre site in one of the city's rare green belts and is easily accessible by subway, train, public or school bus. The campus has been newly reconstructed and includes large classrooms, science and computer labs, a 25-meter indoor swimming pool, gymnasium, large playing field, tennis courts, a multi-purpose room, and one of the largest arrays of solar panels in Tokyo. The school also owns a ski lodge used for trips with grades 4 - 6.
The school offers a wide variety of extracurricular activities for all levels. These include such team sports as cross country, tennis, wrestling, swimming, basketball, soccer, track and field, and baseball as well as intra-murals. Fine arts and activities offered include vocal and instrumental music, speech, debate, drama, musical, student government and publications. Cultural trips within and outside of the country are also part of the curriculum.
| | |
| --- | --- |
| Enrollment | 896 Students K-12 |
| Curriculum | International, International Baccalaureate Diploma (IB Diploma), United States |
| School Year | August - June |
| Year Founded | 1954 |
| Average Class Size | Elementary: 20, Secondary: 20 |
| Clubs | Cub Scouts, Boy Scouts |
| Campus Information | City (or closest city): Tokyo, Location Type: Urban, Campus Size (hectares): 3.7, No of Buildings: 4, No of Campuses: 1, No of Classrooms: 80, No of volumes in Library: 40,000, No of computer labs: 6, No of instructional computers: 514 |