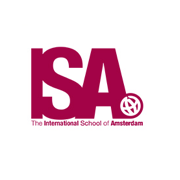 International School of Amsterdam
Amstelveen, Netherlands
The International School of Amsterdam is a private, nonsectarian, day school designed to provide an English-language academic programme to the children of the international community in and around Amsterdam. ISA was the first school in the world to have been approved to offer all three IB programmes.
The school is governed by a Board of Governors. The school offers the International Baccalaureate Primary Years, Middle Years and Diploma programmes and an American-style High School Diploma. Students may take, PSAT, SAT, ACT, TOEFL tests and the Cambridge Preliminary, First Certificate and Proficiency examinations. English as an Additional Language classes are offered for students in pre-kindergarten through to grade 10. Mother tongue instruction is available in many languages through the school's language academy.
The High School programme emphasizes preparation for entrance to universities. Staff members are fully qualified and experienced. Many of the teachers have advanced degrees. Average length of service is eight years. The student body is drawn from 50 nations with the largest groups coming from the United States, Japan, Korea, UK, India, The Netherlands and Scandinavia. The school year runs from mid-August to mid-June. Classes meet Monday through Thursday from 08.30 to 15.30 and on Friday from 09.30 to 15.30. A diverse extra-curricular programme of sports and other activities is offered.
The school is housed in a new 28,800 m² building in the Amsterdam suburb of Amstelveen. Facilities include classrooms for all levels, three libraries, a 400-seat theatre, eight science laboratories, five gymnasia, design and food technology laboratories and specialized rooms for music, art and drama. The school has moved away from computer centres and has a 1 to 1 IPad programme from Grade K - 5 and 1 to 1 laptop programme from Grade 6 - 12.
The school is accredited by NEASC in the United States and by CIS and is fully authorised by the International Baccalaureate Organization.
| | |
| --- | --- |
| Enrollment | 1,353 Students N-12 |
| Curriculum | International, International Baccalaureate Diploma (IB Diploma), International Baccalaureate Middle Years Programme (IBMYP), International Baccalaureate Primary Years Programme (IBPYP) |
| School Year | August - June |
| Year Founded | 1964 |
| Average Class Size | Elementary: 20, Secondary: 18 |
| Campus Information | City (or closest city): Amsterdam, Location Type: Suburban, Campus Size (hectares): 4.5, No of Buildings: 3, No of Campuses: 1, No of Classrooms: 144, No of volumes in Library: 35,000, No of instructional computers: 2,100 |